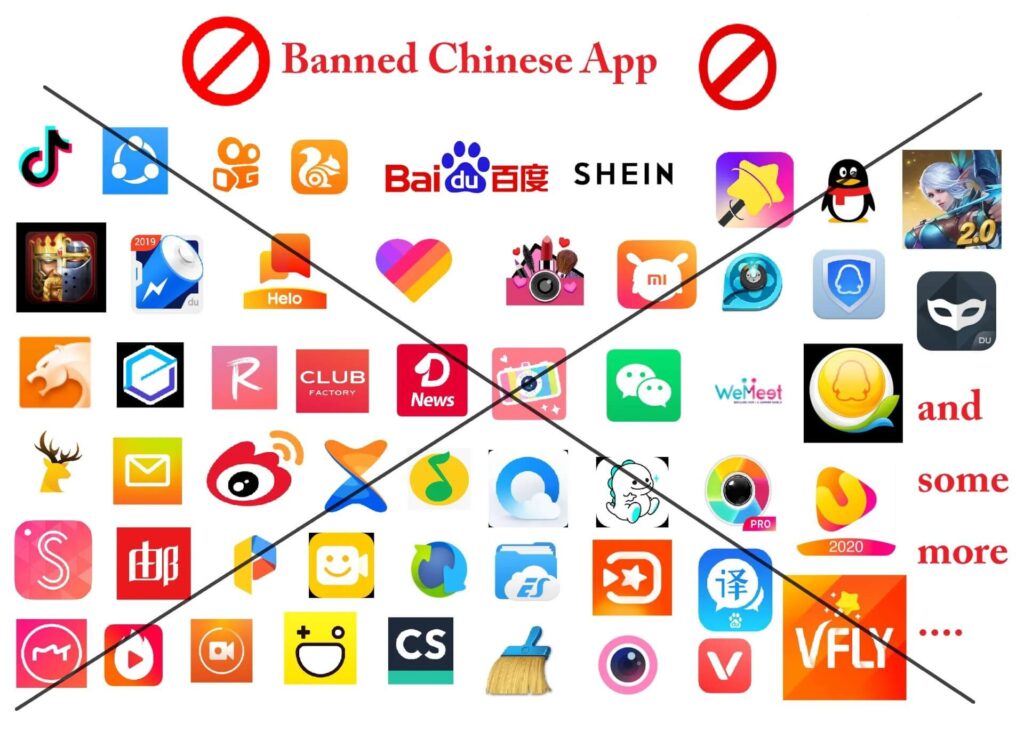 In order to boycott Chinese products and make India self-reliant, the Indian government has made a major push to increase the use of Indian products in the market. Our Prime Minister Narender Modi ji has urged the citizen of India to remove all Chinese applications like TikTok, UC Browser etc from their mobile phones.
He asked people to use various other alternatives for these boycotted Chinese applications. If you want to support the cause, you need to delete these Chinese applications from your phone. It has also been claimed from past incidents that Chinese applications are responsible for sharing data with Chinese servers, thus this creates a security issue in the application.
The intelligence agencies in India also claimed that the Chinese applications used as spyware or malware and are in clean violation of terms of usage that in return compromise a user's privacy.
This ban has been imposed under section 69A of the act that provides access to block access of information by Public. Before getting into the list of alternatives of boycotted Chinese applications, let's first get into the names of those restricted Chinese applications. Here is the list is given below:
1. TikTok
2. UC Browser
3. Shareit
4. Clash of Kings
5. Likee
6. Shein
7. Kwai
8. YouCam makeup
9. Helo
10. Baidu map
11. DU battery saver
12. Mi Community
13. CM Browers
14. ROMWE
15. APUS Browser
16. Virus Cleaner
17. Club Factory
18. WeChat
19. Beauty Plus
20. Newsdog
21. UC News
22. Xender
23. ES File Explorer
24. QQ Mail
25. QQ Music
26. QQ Newsfeed
27. Bigo Live
28. Parallel Space
29. Mail Master
30. SelfieCity
31. Mi Video Call — Xiaomi
32. WeSync
33. Weibo
34. Viva Video — QU Video Inc
35. Meitu
36. Vigo Video
37. New Video Status
38. DU Recorder
39. Vault- Hide
40. Cache Cleaner DU App studio
41. DU Cleaner
42. DU Browser
43. Hago Play With New Friends
44. CamScanner
45. Sweet Selfie
46. Wonder Camera
47. Photo Wonder
48. DU Privacy
49. We Meet
50. Clean Master – Cheetah Mobile
51. Baidu Translate
52. U Video
53. QQ International
54. QQ Security Center
55. QQ Launcher
56. Vmate
57. V fly Status Video
58. Mobile Legends
59. QQ Player
Deleting these applications is the first step to secure your private information. If you miss to the feature of these applications then you don't need to worry about that. We have bought you a set of alternatives for those boycotted Chinese apps. These alternative applications have same features as that of Chinese applications. The list of those alternative applications is mentioned below. So, let's get started:
Triller (Best alternative for TikTok, Likee, Kwai, New Video Status, Vigo, Meitu, Vmate, and V fly Status Video)
With the list of issues in TikTok, privacy is the major concern of those using this application. US senators have urged FTC to investigate the use of TikTok application. They have found that TikTok has apparently failed to take down videos that were made by children of under the age of 13 years.
This has been violated 2019 agreement, and this application failed to protect the privacy of minors. If we talk about Likee and Kwai then it has been discovered that these both applications have Chinese roots and they host inappropriate content on their platform. So, the best alternative for these type of applications is Triller which is similar as TikTok as this application provide you the group video option where you can collaborate with anyone present on this application.
With the help of this application, you can lip sync, take up challenges and create amazing videos. This platform was made in California and has been popular among various celebrities including Justin Bieber, Rita Ora and many more. It has more than 100 filters that make it unique and best alternatives for above applications. You can install this app on your Android and iOS and Android.
Google Chrome (Best Alternative for UC browser, APUS , DU, and CM browser)
The Alibaba group owns UC browser which has been used by half of the population in India. It has some security concerns in the past few years and in 2015, the detailed study has shown that this Chinese application has security vulnerabilities and privacy controversies over the past few years.
A study conducted also states that the personal information of people using this Chinese application has been shared to Umeng that is the analytics tool of Alibaba. This all has been done without encryption. Further location data has also been transferred to AMAP in China. UC browser had also been removed from the Play store in 2017 because of misleading promotions.
Other Chinese browsers like CM browser have also been flagged due to threats to national privacy. So, the best alternatives for all these boycotted Chinese browsers are Google Chrome.
It takes security and privacy of people very seriously and continuously updates its terms to protect users from harmful websites. If you don't want ads based on your search history then you can check out other alternatives like Firefox browser or Brave privacy browser that offers better security to your data.
ShareChat (Best alternative for Helo, Bigo Live, Hago Play With New Friends Application)
Helo is another Chinese application that has banned in India and it has been downloaded by most of the people in India. This social media platform contains viral content that has been shared among various applications. This application contains 14 languages and considered among the most downloaded application in India.
However, a survey has been conducted in India stating that this Chinese Application seek personal information of users as it want to access camera and microphone of your device which is not required. So, clearly it is believe to be the great threat among its users.
So, if you want the same application features then you must try ShareChat, which is considered to be the best alternative for this Chinese application. ShareChat will provide you content in 15 languages that will be great enough for you and it has strict content policy to keep unwanted content at bay.
Files by Google (Best alternative application for WeSync, Shareit and Xender)
ShareIt, is the file transfer application that has been used by millions of Indians in the market. Just like Helo and other Chinese application, it also contains pivoted content. As a result, Indian government has banned this application so that there will be no compromise in the security of the people.
Similarly, if we talk about Xender, then this application has too many features including constant ads and other pop up ads that make the experience of the users more worst. ShareIt also has two security vulnerabilities that have been founded in the past years that allow hackers to attack your device.
So, the best alternatives for these two applications are Files by Google. This application will act as your File Manager and seamlessly send and receive files without content modification. This application is so fast and can send files upto 150 MB. You should try this alternative against those Chinese Applications.
Adobe Scan (Best alternative for CamScanner)
We all know CamScanner is the popular document scanning Chinese application. This app has been removed from Play Store after Kaspersky found a Trojan module hidden inside this application. This application downloads malicious modules depending on what creators are up at moment. Later, play store has removed this application.
So, if you are looking for best alternative for this Chinese application then you can go with Adobe Scan that has been developed by Microsoft Office Lens. This application has advanced features that will help you to scan your documents and create PDF of them.
Nortan App Lock ( Alternative for DU privacy, Vault- Hide and APP Lock)
App lock is another popular application used by number of people. It has been registered in Hong Kong, outside the mainland of china. This application has privacy issues as it will read your photos, videos, files, mobile camera and microphone. When you allow the app to read internal storage then it may be a huge concern to your private data.
So, the best alternative for these apps is Nortan app Lock that is developed by popular antivirus provider Nortan Labs whose headquarters are in the US. This application is added free and you can set PIN, password or fingerprint for your apps using this application.
KineMaster (Best alternative for Viva Video)
To edit photos and videos in your smart phone, most of the people make the use of Viva Video application. Most of the people don't know that this application does not care for your privacy. This Chinese application asks too much permission on your smart phone that is not even applicable. In fact, this application has been blocked in 2017 by Indian Government.
If you are looking for a good alternative for this application then you must use KineMaster. This video editor has a number of pre-made themes and templates that help you to create awesome videos within minutes. For Android mobile users, we will suggest KineMaster and for iOS users we will suggest LumaFusion application for video editing.
Both applications brings pro-level editing features and precise editing tools to give you a better video editing experience. So, what are you waiting for? Just delete the Chinese app and install other more secure alternatives.
Candy Camera (Best alternative for Beauty Plus Camera, Wonder Camera, Sweet , SelfieCity, Photo Wonder, YouCam makeup)
While there is no concern about Beauty plus but it has been made in China and it has all the permissions to access your photos. The best alternative for Beauty plus Chinese app is Candy Camera. This is one of the best Selfie camera apps and it consist of all the features like beautifying filters, slimming effects, and many more. So, capture your beauty with this beauty application.
Google News (Best alternative application for NewsDog and UC News, QQ Newsfeed)
Both these Chinese applications are popular news apps used in India. These apps are also featured in the list of 52 apps banned in India by Indian agencies. The best alternative to both these apps is Google news. Here you will get the latest news with clean and clear UI reading experience. If you are using iOS device then you can use Apple news that will be the best alternative for Chinese news apps.
Avast Antivirus application (Best alternative for Virus Cleaner and QQ Security Center)
Among most of the virus removal apps, the main objective they form is to sell the product or show ads rather than protecting your privacy. The Virus Cleaner is the Chinese application that creates a great threat to security. The best alternative to this virus cleaning application is Avast antivirus security.
This application takes care of your security and provides you protection from malware and virus attacks. When you install any malicious application on your android then it will send you an alert and secure your device from phishing attacks. We recommend you to download this app to protect your device from being hacked.
Greenify App ( Best alternative for DU Battery Saver)
When it comes to the privacy of your data then DU Battery Saver is the serial offender. If you clean your apps more often then it will eventually result in a decrease in battery life. This application clears your apps and clear RAMS to boost your battery. But this is not the right option to do so.
Therefore, we have come up with the best alternative for DU Battery Saver Chinese app i.e. Greenify. This app automatically detects the offending apps that consume more power and put them into hibernation. In this way, it will help you to increase your battery life. We recommend this application to increase your battery for android.
Myntra (Best alternative application for Club Factory, Shein, Romwe)
Shein and Romwe featured in the national security threat app list. These ecommerce applications are used to buy clothes. Club Factory is also a Chinese app that need more permissions than require. Therefore, these applications are banned in India due to security purpose.
We suggest Myntra that is the best alternative for these applications. Myntra has a large collection for bags, clothes, shoes and other merchandise. You can also use Amazon, Lifestyle, and other eCommerce applications as an alternative for these Chinese apps.
One of the banned Chinese apps is DU recorder that was popular for screen recording, live streaming integration and many video editing tools. However, this has been marred with too many ads which has made the user experience more worst.
So, the best alternative for this banned Chinese app is Screen recorder with no ads. This is the clean app for screen recording and do not contain any ads, virus or bloatware. It has been filled with necessary features and considered to be the best app for screen recording.
Clone App (The best alternative for Parallel space)
The most popular Chinese app for creating dual space for other applications is Parallel space. Basically this cloning app runs on a separate user profile. Now, this application has been blocked by the Government of India due to suspicious data collection activity they performed.
So, the best alternative for this Chinese application is Clone App. This app is based on the US and does not serve malware ads or slow down your phone. You will have a great experience with this application. We suggest you download now for dual space.
SD Maid (The best alternative app for DU Cleaner, Cache Cleaner DU App studio, and Clean Master)
Clean master is one of Chinese apps that has already thrown out of the Play store and now officially banned by Government of India. The best alternative for this Chinese app is SD Maid. This app will deep scan your device and SD card and remove unnecessary files that are filling up your space. You will feel a ad free experience with this cleaning application. Go and download it now!
Solid Explorer (The best alternative for ES File explorer)
ES file explorer is the file management system used by many of the people. This application was removed by Play Store in the past year and now officially banned by Government of India. If you are still using this application then you must uninstall it due to privacy concerns. The best alternative for ES Explorer is Solid Explorer.
This modern file management app with clean UI and UX provides you with every file management feature like FTP Server, LAN/SMB, etc. The app shows ads at the bottom of the page which are also not intrusive. So you don't need to worry about anything. Just go and install this file explorer in your device.
Microsoft Outlook (The best alternative for Mail Master)
Mail Master is the Chinese app that is used to send or receive mail and it supports multiple services like Gmail, yahoo etc. Now, this app is banned so we have searched a different alternative for this. Microsoft Outlook supports in house email service for every type of mail and works with Gmail, Yahoo, POP, IMAP and other mail configurations.
This is the best app that gets connected with your calendar too. You will get several features like dark mode, swipeable functions and many more with this app. This is the perfect alternative for Mail master.
Google Duo (Best application for Mi video call, We Meet and U Video alternative)
While Mi Video call application has been banned in India , we have bought you its best alternative i.e. Google Duo. This secure video calling app will protect your privacy due to its end to end encryption method. No one can access your feed and now it supports 32 users in the video at one time. If you want to access remote view then you can use Team Viewer which allows you to control other smartphones. You must download this application.
Other alternatives of several apps include:
| | |
| --- | --- |
| Application | Alternative |
| Baidu Map | Google Maps |
| QQ Music | Gaana App |
| Weibo | Facebook, Twitter |
| Baidu Translate | Google Translate |
| QQ player | MX player |
Conclusion
In this article, we have listed the banned applications by the Government of India and also listed their alternatives which provide the same features as the banned applications. Many banned applications have already been deleted from Play store due to security and privacy concerns.
So, use your smartphone securely with the alternative applications that take care of your security and protect your device from harmful attacks. We hope that you found this article informative and help you find the best alternative for banned apps.