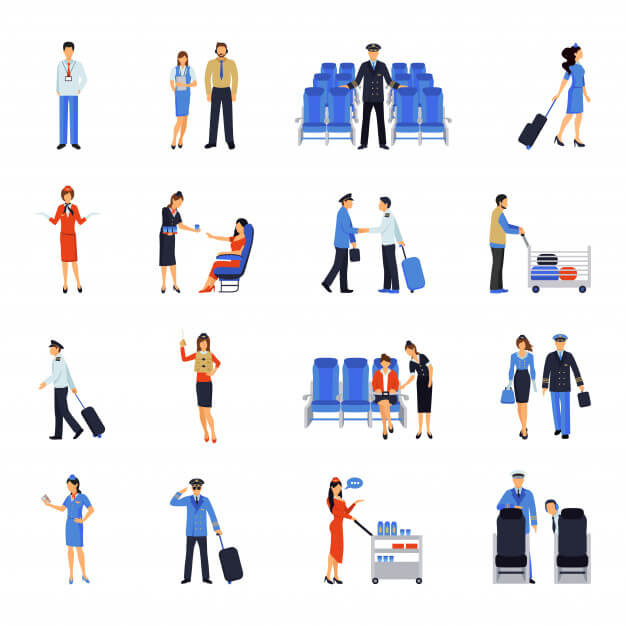 The Air hostess profession is known to be one of the highest-paid professions in India. This profession has been acquired by the number of young graduates. Many young girls dream of becoming an air hostess for a big airline company.
This profession not only provides you a good salary but also gives you the immense experience of traveling. You will meet different people around the world and get a chance to learn most of the things in this career.
Most of the people thought becoming an air hostess is an easy task. But, in reality, it is not an easy task as the one who becomes air hostess has a series of responsibilities on the plane. One of the essential responsibilities is to greet everyone with a beautiful smile on her face.
The air hostess duty is to make sure that the traveler should be comfortable and guide the passenger during seat settlement. So, overall she has a list of responsibilities that you don't even imagine. If you also wish to become an air hostess by someday, then you need to know that it is essential you have that personality along with quite good education.
In this article, we are going to discuss the various responsibilities, qualifications needed, and salary of an air hostess. One thing you make sure if you opt for an air hostess career is kindness and attitude to deal with people. Every flight has a number of attendees that are different in nature.
So, it is also essential for air hostess the way they deal with passengers. This career is designed for women, and the men who do this same job are known as stewards. So, let's get started with the guide to become an air hostess.
Eligibility criteria required if you want to be an air hostess
Many factors are essential for you to become a successful air hostess. The first one is the eligibility criteria. If you want to opt for this career option, then you should know about the eligibility criterion that is essential for this role.
Most of the air hostess experience their career growth in eight to ten years of span. At that time, that experienced air hostess will move to ground air hostess that will keep a check on another air hostess, train them well so that they can perform well and do all management work.
The eligibility criterion is divided into different categories. Below, we have listed those categories that you should know to become an air hostess. So, let's get started:
1. Education Qualification to become an air hostess
If you want to pursue an air hostess career, then the education qualification needed is 10 +2 pass out. Being one of the exquisite course, it requires a minimum of intermediate qualification.
But, if you want to pursue PG air hostess course, then you should have the minimum qualification that will be graduation. Although, in India, there are many academies that offer air hostess courses with the minimum qualification of 10th pass. However, there are others too who offer this course with minimum qualification as 12th pass.
You cannot join this course if you don't comply with their minimum qualification. Along with the education criterion, you should also have hands-on languages like English, Hindi as well as other foreign languages.
2. Age and Marital status requirements
These are the other factors that are essential to becoming an air hostess. The age limit of the person applying should be dependent on the policy of the specific institute on which they urge to apply. Most of the air hostess course academies prefer candidates who are of the age group of 17 to 26 years.
Marital status is another factor that depends on the policy of the academy. Most of the air hosting institutes prefer unmarried girls, but some of them also allow married ones. So, if you are unmarried and ambitious towards your air hostess career, then you would be considered as the best choice for air hosting institutes.
3. Physical eligibility
We all know that the air hostess job is all about having a pleasant personality and communication skills. Their behavior matters the most in dealing with passengers. If we talk about the physical eligibility of air hostess, then they should look good. The minimum height required to become an air hostess is 5″ 2, or you can say 157 cm.
The weight must be in proportion to the height of the candidate applying. The most important thing that matters in physical eligibility is skin color. The one who is applying for an air hostess career should be fair in color with a clear complexion. She must be attractive and physically fit to fly with the passengers.  So, if your health is good and you are physically fit enough for this job, then you must apply for the post of an air hostess.
4. Medical condition
Besides physical appearance and behavior traits, you should be medicated fit to get the job of an air hostess. It is necessary for air hostess to be fine. That means she should not have a history of mental illness, and the eyesight requirement for this job is 6/9. Also, you mustn't be suffering from any of the diseases. If you tend to be medically fit, then some airline companies will provide you some concession in training.
So, we have mentioned some of the necessary skills that prove to be the eligibility criterion to get selected for this post. Besides that, it is essential to have good behavioral traits. So, let's get into the brief of behavioral traits requirements for the post of an air hostess.
Behavioral Requirements to become an air hostess
With all these education and other eligibility criteria, you should be excel in behavioral traits. You should have the behavior that will reflect your personality. There are some traits that you should have that will reflect a good behavior while treating your travelers. We have created a list of some behavioral requirements that are needed when you choose air hostess as your career option. Let's see:
Should have a pleasing personality: The first thing about your behavior is the pleasing personality you should have. You should be well dressed and have a good appearance in terms of voice. You should be polite to your passengers and serves them well. The friendly personality is a must for the post of an air hostess.
You should have good communication skills: Besides the control over your voice and good personality, you should definitely have a master's in your communication skills. This means that you must be able to communicate with your passengers with ease and solve their problems. It is imperative to have excellent communication skills to understand passenger demands as well as make them understand or convince them. To improve your communication skills, you should take various language classes, and this will help you to communicate with international passengers with ease.
Good presence of mind: In terms of emergency exits, you should have a good presence of mind so that you can guide passengers to follow the steps. You should not get panic with several situations like turbulence or any other technical issues on the flight. Therefore the presence of mind is considered to be the essential eligibility in terms of behavioral traits.
Capability to do teamwork: You should have the capability to do work according to your team. Usually, a cabin crew contains 14 to 16 members, and it is very important for you to work with your team.
Should have no problem with long working hours: Sometimes it may happen that your flight gets late or you have to put extra effort into flight delays. You should not have a problem with working for long hours. You should understand the situation and works calmy according to it.
Should have a positive attitude: Positivity in your behavior is a must while dealing with any situation over the flight. You should have a positive attitude towards dealing with the passengers at work.
Examination eligibility
To get a job in the airline, you should pass the examination that occurs in different stages.
Written Exam: The first stage of air hostess examination is a written exam test. It contains an aptitude and reasoning test. This is similar to other competitive exams. It contains objective questions that you need to clear to get a job as an air hostess.
GD: When you clear written examination, then you need to attend group dynamics. This is mainly used to test your presence of mind with communication skills, teamwork, and leadership quality. You need to be well prepared for this group dynamics round.
Interview: The final stage is the interview. After clearing two rounds, you will finally get into the interview round in which you will be judged on the basis of your overall personality. Once you get selected in the interview, you will be given training for six months to excel in your career.
Courses you should opt for Air hostess career
You can opt from the list of courses:
Certification Courses for air hostess career: You can do certification of various courses. List of certification courses for air hostess career includes:
Airline hospitality
Air hostess training certification
Air hostess management certification
Cabin crew attendant course
Diploma Courses for air hostess career: You can also do a diploma in these courses:
Diploma in air hostess training
Diploma in cabin crew or a flight attendant
Diploma in aviation and hospitality management
If you want to do these courses, then you must opt for famous Indian institutes that provide air hostess training. So, here is the list of best training institutes for aviation training in India.
List of best Airline training institutes:
FrankFinn Institute of Air hostess
Rajiv Gandhi memorial college of aeronautics
Universal aviation academy
Air hostess academy
These are some best institutes that provide training in the Air hostess post. Now, you should definitely want to know about the salary of Air hostess. So here we go.
Salary
It has been recognized that the salary of an air hostess is very high. This is true, as when you start your career as an air hostess, your salary will be Rs. 20,000, and when you start growing in your career, it usually hikes. It goes to 80,000 per month and more.
Domestic airlines usually pay Rs—20,000 to 35000 within some period. If we talk about international airlines, then you will get 80,000 per month, and it usually depends on your skills and experience. The senior air hostess can go up to 2lakhs per month. With salary, they also provide you other allowances like medical insurance, retirement plans, etc.
Conclusion
In this article, we have discussed a full guide that will help you to become an air hostess. We all know that no job is easy, and every job requires a lot of effort to get a good amount of pay. So, this is the situation with this career as well. Air hostess has a number of responsibilities that will help people to make their journey comfortable. With all the procedures, including training courses, diplomas, and clearing interview sessions, you will finally get a job of an air hostess.
If you want to apply for an air hostess career, then you should excel in your overall personality. This is the job where personality and your communication skills matter the most rather than your degree. So, you need to be well prepared to get a good job with a high pay scale in this career.
You can choose from various options like Cabin crew attendant, air hostess, aviation, or management of the whole team and gain specialty in any one of them. This will lead your career to a higher peak. Besides work, you will also get benefit from traveling to different destinations and explore the various corners of the world. This is the best job that enjoys traveling. So, apply and be prepared for an air hostess job to start with the new beginnings.