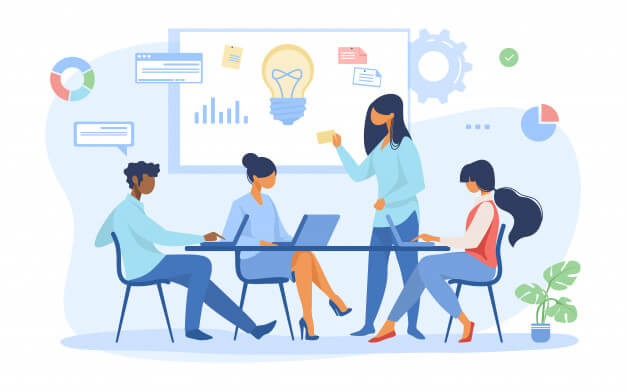 Presentation is important when designing and using a packaging label, which entails a number of attributes to consider: style, size, color scheme, and design. For some companies, the idea of using a plain label without much design or differentiation from other labels is a practical solution, however, this can make identifying specific types of products tedious and challenging at times.
Aside from a brief, exact description printed on the label for clarity, there are other important ways to make your products "stand out" from each other, while making them easier to notice quickly and handle with more efficiency.
Color Schemes and Graphics
A logo or simple graphic style on a label can make your product much easier to identify, especially if it's a well-known brand. If your company is new, this vibrant way of designing your label will give your business identity or a signature appearance that will be easy to recognize quickly. A graphic doesn't need to be detailed nor complicated, as long as it is associated with your brand and can be easy to identify at first glance.
Readability and understanding a label quickly, and at first glance will improve your relationships with clients and suppliers alike. If a specific font or a specific geographical shape or line differentiates your company from the competition, this makes your job a lot easier. Consider the marketing value in using a unique, but a simple label that gets noticed without effort!
Durability of Labels
For many products impacted by long-term storage, changes in temperature and moisture, affixing a durable label is of utmost importance. These products often have a glass or hard plastic surfaces, such as soda bottles or cooking oil. These labels are "shrunk" to fit the shape and mold of the bottle or container, and becomes resistant to peeling or damage from handling during shipping and use.
An economical option for large scale items is shrinking plastic or bundling, which is affixed to surfaces in large volume, usually mechanically, and costs less than other methods. These labels are ideal because they become a part of the product's packaging, and cannot be easily torn or separated.
Shipping Labels
Sending products by courier requires a label that specifically describes the content of a product. This process must take into consideration international shipments and the specific information that must be included on the label for border customs. Shipping labels are large in size and provide the necessary space to include all the details needed, including the sender and receiver address and contact information, contents of the package, and other details as needed.
Dymo labels provide the space and quality you'll need for your next shipment of goods. Shipping labels are also referred to as postage labels, and available in various sizes, and purchased in bulk for long-term and high volume use, such as Zebra labels 4×6. It's important to determine which labels are best suited for various products before you place an order or make a firm decision.
An Economical Approach: Cut and Stack Labels
Grocery stores, suppliers, and manufacturers of various household, food, and drink products often benefit from these cost-effective cut and stack labels. These are easy to produce and can be applied quickly for large, just-in-time shipments so that they can ship quickly with little or no delay. There are many great options to consider when deciding on a set of labels, which doesn't have to cost your business a fortune, and can effectively organize and deliver your items with ease.
Growing Your Business and Expanding Your Market
Your business makes an impression in many ways. Labelling your products to distinguish your brand and company from competitors is marketing what you have to offer. To advance your revenue and success in the right direction, consider consulting with a company like Incify, 2x.marketing, etc. that helps small businesses grow online. You'll find everything you need from researching trends in the market to evaluating and changing your strategy to maximize growth.
As with any plan, your business needs to set goals and measure performance on a regular basis. For example, where are your ads most effective, and on which websites do you experience the most engagement?
Knowing where your best chances are for success will give you the advantage of avoiding unnecessary marketing costs and other expenses for promotions that simply do not work. Building your platform and moving forward into a well-managed business is easier than you think, with the right expertise and resources available.
It's the simple aspects of your business that determines success. Focus on your logo, labels, and the mission of your company. What is your message to prospective customers and how will you fulfill their needs? Once you have designed that foundation of your company, everything else will fall into place, along with strong commitment and a willingness to learn and adapt. Make the most out of your business by reviewing your goals and setting your sights on success.