FastestVPN is a VPN service that one of the most promising VPN companies in the world. The VPN service emerged only last year, but in that short amount of time, FastestVPN has earned itself recognition as a reliable VPN service. It's ranked as one of the best in the market.
And because of its overall positive user impression, we had to give it a try. But before we dive into the experience with FastestVPN, let us give you a brief introduction on what a VPN is and why it's so important.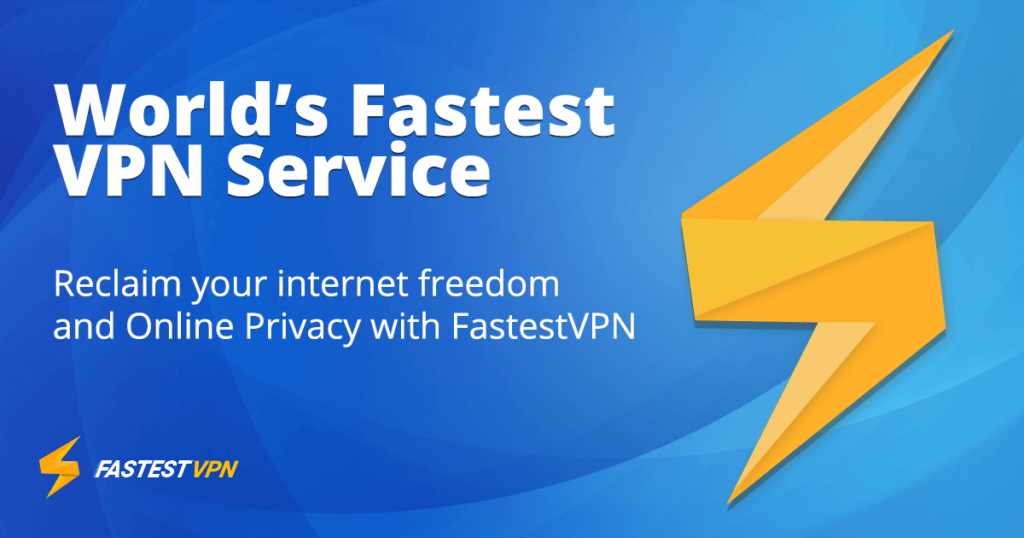 The Benefits of Using a VPN
VPN stands for Virtual Private Network (VPN). It's a network of servers that allow you to browse the internet safely and anonymously.
VPN servers assume charge of directing the flow of internet traffic when you connect to them, instead of the Internet Service Provider (ISP). This prevents the ISP from tracking your every online activity and possibly record them. And because the ISP can't track your identity, it becomes difficult for them to throttle bandwidth on your connection.
The other advantage of using a VPN server to access the internet is the unlimited freedom.
Government and ISP regulations prevent users from accessing every website on the internet. But with a VPN, it becomes achievable. Not only blocked websites, but geo-restricted content as well. Popular examples are digital streaming services like Netflix. Netflix houses thousands of movies, but much of its content is locked behind geo-restriction. Netflix US has become a popular region to stream from because it provides a complete library experience.
Global Coverage and Performance
VPN servers are the backbone of a VPN service. It's a global network that establishes a connection the user and takes charge of internet traffic flowing from the user.
The more servers a VPN provider has established, the more regions a user can access. And the number of servers available region prevents slowdowns during peak traffic.
FastestVPN features a global network of 150+ high-speed servers in more than 23 countries worldwide. While the number of servers is definitely lower than established VPN providers in the market, FastestVPN didn't leave us wanting for more.
Security:
Security is one of the top reasons why we choose VPN in the first place. It's to prevent malicious users from intruding in our internet traffic exchange. Users are most vulnerable while using public Wi-FI due to weak security.
VPNs utilize encryption to safeguard internet traffic. FastestVPN features military-grade AES 256-bit encryption that is trusted by security experts around the world. Not only that, FastestVPN combines the best of encryption technology with NAT firewall protection, Ad-Block, and Anti-Malware protection.
The final product comes in shape of a reliable VPN that doesn't leave you with an annoying experience.
The VPN also lets you choose between protocols. The list of protocols include:
OpenVPN
PPTP
Xsec
IKEv2
OpenConnect
L2TP
There's one important aspect when shopping for a VPN, and that's no log policy. Luckily, FastestVPN features a zero log policy. So, you can rest easy knowing that your online activity will not get recorded on VPN servers.
Compatibility
FastestVPN features a compatibility with a broad range of devices. It actually has one of the largest compatibility list we've seen in a VPN service.
The list combines a total of over 20 devices, ranging from platforms like Windows and macOS to even video-game consoles, Kodi, and Roku.
Customer Support
Few VPN providers in the market offer great customer service. A quick and reliable customer service is important for getting your problems resolved as soon as possible.
FastestVPN not only offers email support but also 24/7 live chat support. Simply head to their website and initiate chat with their customer representative.
Pricing and Packages:
With all that said, the good news is that FastestVPN offers affordable packages. Considering its short existence, this is a good move to give users a chance to try out the service for themselves.
Here's what FastestVPN has to offer:
1 Month for $10.00
12 Years for $34.95
2 Years for $39.95
All packages feature unlimited bandwidth and come with a 7-day money-back guarantee. Buy VPN now!
Conclusion:
Having tested FastestVPN, we can safely say that it's a solid VPN experience. Although the number of servers certainly look a lot less than competing VPN services, we didn't find that an issue.
There was an issue at first when attempting to connect to a VPN server but it was quickly resolved by the customer service.
What came most surprising to us is the fact that FastestVPN works just as good as the more established VPN services in the market. It's an achievement for a VPN service that's been in the market for just a year.
Pros:
AES 256-bit encryption
Unlimited Bandwidth
Supports 5 devices simultaneously
Long list of device compatibility
Internet kill switch
Cons: