FastestVPN founded their company back in 2017 under the safe jurisdiction of the Cayman Islands. Over the years, FastestVPN has amazed customers worldwide with its low price point and the vast range of features it has to offer. FastestVPN is an extremely bold brand name, and therein lies the challenge for the VPN. This claim is what we have set out to find in this FastestVPN review.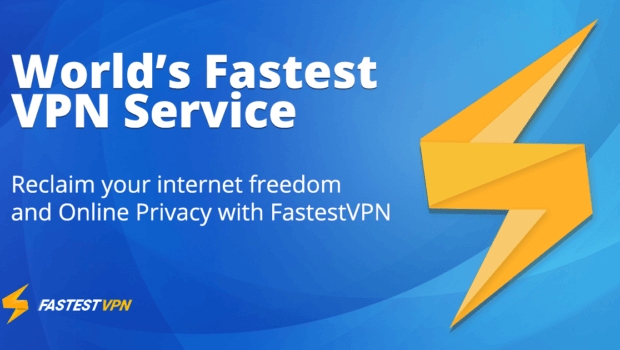 Fastest is it really?
Here is a short overview of FastestVPN:
Encryption:  AES 256-bit (military grade)
VPN security protocols:  PPTP, l2tp, IKEV2, TCP, and UDP.
Torrenting:  Yes
Log files: No
Customer support: Available 24/7 by email, live chat, and FAQS.
Payment plans
Below are the most affordable pricing plans
1 Month: $10/Month
3 Year Plan: $1.11/Month
1 Year Plan: $2.49/ Month
5 Year Plan: $0.83/Month
Pros of FastestVPN
Cayman Islands location
Due to FastestVPNs unique location in the Cayman Islands, they enjoy the absolute advantage of no data log laws and safe jurisdiction.
However, the island's obsession with secrecy and privacy is the main reason numerous VPN providers are moving to this location. These policies essentially mean that the VPN does not log or track any data you enter from your device.
Supports AES 256-Bit Encryption
That's good news is that FastestVPN also supports multiple security protocols and AES 256-Bit encryption, making FastestVPN easily one of the most secure VPN's in the market today.
Torrenting Is Allowed
FastestVPN does not have a bandwidth cap, which may sound measly, but for those who love downloading torrents, this may come as a huge plus. Moreover, FastestVPN also includes features uniquely suitable for torrenting like P2P Optimized servers, Unlimited Server Switching, Unlimited Bandwidth, and 99.99% Uptime enabling you to enjoy the fastest torrent speeds, while still being protected from hackers and third parties.
Compatible with Multiple Devices
One thing, which FastestVPN loves advertising is their compatibility with 20+ devices. In our opinion, FastestVPN works best with Windows, MacOS, Linux distros, Xbox, PS4, iOS, Android, Chromebooks, Kodi, AppleTV, and Amazon Firestick devices.
You shall also be happy to know that the connection remains secure even if your working with 10 devices simultaneously. Their interactive blogs also have step by step guides, to downloading FastestVPN on these devices.
Numerous Apps
At FastestVPN, they also have native apps for iOS and Google Play app stores. However, if you genuinely feel like living dangerously, then you can also download the APK file directly from the FastestVPN website and install the app yourself.
Easy to Use
Millions of customers have stressed the absolute ease at which you can download FastestVPN. After rigorous testing, many critics have even concluded that the service has no lags or bugs whatsoever. Moreover, their dedicated team also provides easy walkthroughs for your simplicity on their numerous blogs, assuring all their customers it doesn't take longer than 3 minutes (approximately) to download the service and no more than 3 steps to set up.
Internet Kill Switch
Probably the most important feature, which sets FastestVPN apart from other providers is their renowned internet kill switch! The feature works in such a way to provide a fail-safe if the VPN connection suddenly fails during a sensitive transaction. Thus the switch kicks in to shut off the internet so that your data does not get leaked.
Cons of FastestVPN
24/7 Customer Support always busy
FastestVPN, in my opinion, is a victim of their own success in many ways. Numerous customers have complained of the slow 24/7 customer care service, which FastestVPN has whenever they need their queries answered.
Do we Recommend FastestVPN?
It's a straight yes, despite their slow customer care services. FastestVPN's pros vastly outweigh the cons. Moreover, for a VPN that got founded in 2017, they have come a long way of success. They have a long way to go but they are making the journey in strides
FastestVPN is by far the most interesting VPN we have reviewed in a long time.