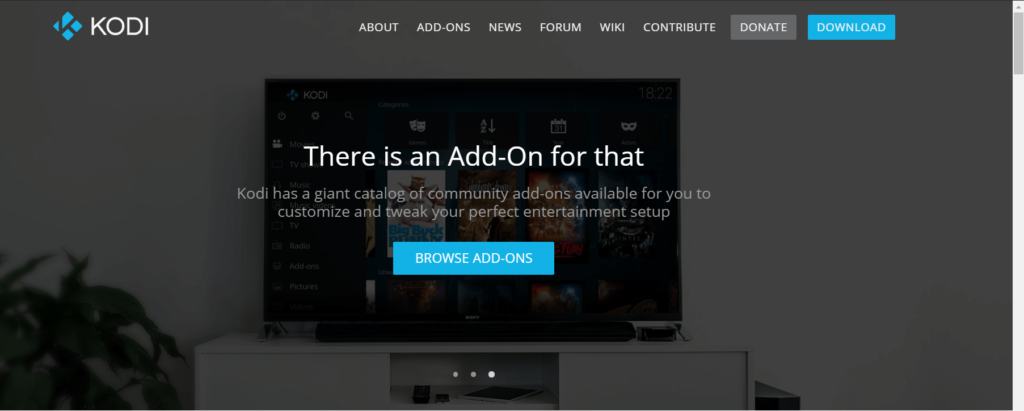 Before we start with the downloading and running Kodi on Roku, some background on Kodi and Roku will help you understand them better.
What is Kodi?
Kodi is a media player software. It is free, open-sourced, and a multi-platform home theater PC (HTPC) application. It is compatible with Netflix, Amazon Video, Pandora, Spotify, YouTube, etc.
You can run the application on any device of your choosing. The user interface is very intuitive and it works with both local and network storage services. If you got entertainment on your mind, Kodi will solve all the problems.

What is Roku?
Roku is one of the popular video streaming applications available in the market. Streaming is defined as the continuous transfer of video/audio files from a server to a client. Roku is simple to use and easy to setup.
You have to create a Roku account and you can start streaming your dearest movies. It is equipped with a remote and many features like the Roku search. You can stream tons of free content, popular movies, awesome music, and almost anything. You just need to have a good and reliable internet connection for streaming.
This kind of technology is making cable TV obsolete. There are several streaming services and devices like Roku, making the experience memorable for you. These devices are streaming 4K quality content with ease. Kodi is a free media player that allows you to stream movies, shows, podcasts, etc. Imagine what miracles will happen when these two services (Kodi and Roku) come together.

Installing Kodi on Roku
Kodi is a media player software compatible with various devices like Amazon Firestick, Chromecast, and Roku streaming stick. The answer to the first question in your mind is yes. Yes, you can run Kodi on Roku.
Technically you cannot install Kodi on Roku. You will be using a Screen mirroring feature instead to achieve the goal. You have to first install and run Kodi on any of your devices. You can use an Android phone or PC for installing Kodi.
• Visit the settings page of the Roku application and if you are using any of the previous versions install the most updated one.
• The most recent one is Roku OS 9.2.
• Now, search for the screen mirroring tab in the settings. Select the setting among the options: prompt, always allow, and never allow.
• Prompt means you will have to confirm the casting of the screen every time you use this feature.
• Always allow and never allow means that you have given permission always and never to this feature.
• After selecting the screen mirroring on Roku, you can enable the mirroring from any device.
• Pair the device with your Roku device that will make things easier in the future.

How to Get Kodi on Roku on Windows PC
You can get Kodi on Roku for a windows laptop or computer. Follow the below steps to run the amazing library of movies/shows:
• On your Windows device, open settings.
• Now, browse through the settings and open devices tab.
• There will be a sub-menu, in that click on the connected devices.
• On the top, click on the 'add device'.
• Now, you will be prompted with the Roku device. Make sure you have mirroring enabled.
• Once you add this device, you are ready to enjoy the movies/shows on your laptop screen.
The settings are valid for Windows 8.1 and Windows 10. In fact, features on the latest Windows 10 make it much easier to connect to Kodi.

Is it safe to use Kodi on Roku?
The only technique to run Kodi on Roku is Screen Mirroring. You can get a near application interface on the Roku if you use screen mirroring. Since Kodi uses torrents and access copyrighted content to stream the videos; it might not be safe for you to use it.
The content owners can anytime challenge the Kodi in a legal battle. The outcome of this battle is shut down of the application. The company is constantly changing the source or domain name of the website which is not advisable. So, it might be unsafe to use Kodi on Roku.
There a single solution to this problem and that is VPN. It is highly recommended that you use a VPN service while using Kodi. VPNs mask your IP address and make you anonymous. There are some disadvantages to using a VPN. The internet connectivity will be affected, speed will be reduced, and you will be hampered with advertisements.

Do you need Kodi on Roku?
If you can afford the subscription charges for various streaming services, then Kodi is not for you. You can just pay the charges and enjoy the content. Kodi on Roku is a misnomer because there is nothing like that. You can only use Screen mirroring to access the content.
Roku provides some free and secure services like Fox TV, History, and other entertainment channels. The content provided by Roku is legal to stream. But if you club it with Kodi, then you are streaming the content illegally.
To stream such content which is restricted in the countries like USA, UK, India, etc. There are different alternatives for Kodi on Roku which will result in a secure transaction of streaming.
One of the alternatives is Firestick. You can use Firestick to enjoy the content. You can access other applications on it like YouTube, Hulu, etc.
Conclusion
Kodi is a free media player software that can be used on Roku to stream movies and shows. It is compatible with Netflix, Amazon Video, Pandora, Spotify, YouTube, etc. Kodi on Roku in 2020 is possible using a screen mirroring technique.
You have to install the media player on a device and then mirror it to your Roku running device. The process is simple and the steps are easy to follow. However, Kodi streams torrents and copyrighted content on its platform. You can use different alternative methods to enjoy movies and shows. It is safe to use Kodi on Roku when you are using a VPN.