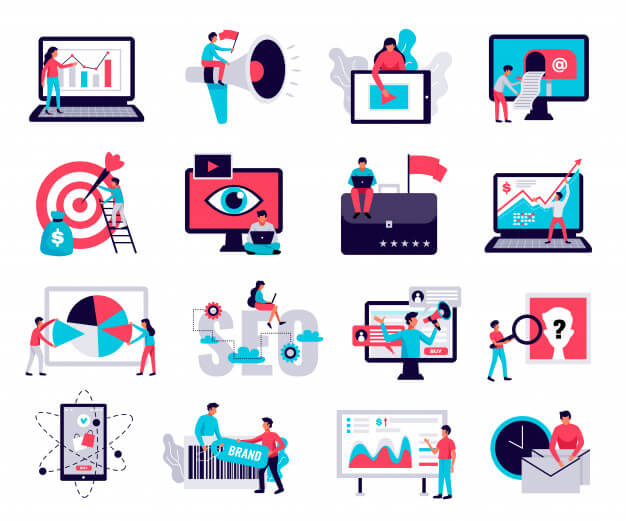 Nowadays, the free internet and its high speed has changed all the aspects of life, be it a professional or personal relationship or the way you handle your social media. It has also changed the way of the using digital world.
We all know that digital channels have more weight if we compare them with marketing or communication. With the extensive use of the internet, we have forgotten the ways traditional marketing and communication has been done.
Most of the business is making the use of Social media and other online channels to promote their business online. But to gain maximum profits you need to make the use of Blended Marketing.
That means you need to make sure that you use traditional marketing methods blended with online communication with your customers. If you follow these perspectives, the chances of getting higher profit returns to become high.
If we talk about marketing then everybody knew that it is a complex methodology that needs knowledge and efforts to master your brand in this online world.
When you create a good marketing strategy, then it would definitely leverage your brand, grow your business and build your strong online presence. Before jumping into blending marketing and how it helps in future, we should first discuss why we all need marketing for our business.
What is the need for marketing for your business?
Who doesn't love money? Everybody wants to earn passive income maybe they need it or just for the sake of earning extra money. So, to do this, you need to create a full-proof plan to earn online. If you want to reach more and more customers through your blog, products or services then you need a marketing strategy.
Basically, in order to promote your business, you need to do marketing. You can prefer online marketing or traditional marketing depending upon your suitability. So, if you want to make your brand stand out on the internet then you should need marketing strategies that complete your goals and company objectives and increase customer base. 
Adapting the right marketing strategies along with blended marketing will help your business to a great extent. To get you a better idea of blended marketing, let's have a look about its meaning and how it helps your business.

What is Blended Marketing and how you can use it to promote your business?
Blended marketing refers to integrating online marketing methodologies with traditional marketing methods that provide valuable insights to your business. This means you can mix traditional marketing along with internet marketing to create your business development strategy.
The main advantage of using Blended marketing is that you can integrate the strengths of both marketing methods and make your brand in a better position. It can also help to increase your search engine rankings that will eventually help you to gain more potential customers both online and offline.
Making the proper use of email marketing campaigns in conjunction with direct email campaigns will help you promote your brand with a specific group of people.
This can be considered as one of the aspects of blended marketing. If you want to reach a high band of customers through blended marketing then you can make the use of paid marketing systems. These systems provide a service where they will make the use of direct mail to send the email list of recipients. 
Besides these uses, there are many other benefits of blended marketing. Let's have a look at them:
Benefits of Blended Marketing
The main objective of using blended marketing strategies is to create an action or reaction among visitors. Combining different attributes of digital marketing with virtues of blended marketing will act as a complementary strategy to boost your business performance. A blended marketing will help your business in this manner:
With the use of blended marketing methods, you can gain greater exposure of your business to a wide range of customers.
Sell your products/services or engage more audiences through online and offline methods.
This integrated marketing will help you to track your online and offline marketing performance.
You will get an idea of how many people you can engage at a particular time.
You can easily create multiple promotions for online and offline marketing strategies.
For example, you can create ads to promote your business online while in offline marketing you can provide discounts or membership profits to your customers.
In this way, you can promote your business both offline and online.
While developing various marketing strategies for your business development, you will be able to represent your business more stable and reliable towards your consumers.
Eventually, blended marketing helps to increase your sales.
With the above list of benefits of blended marketing, you will get an idea of how blended marketing will help to grow your business easily. While you apply for blended marketing, you need to keep some factors in mind that will help you to make the right use of integrated marketing:
Know your customer
It is very important to know what type of customer base you want for your business. When you predict that then you can make well-integrated marketing strategies that can positively impact your audience.
Study the conversion funnel
Once you will get to know you're the rate at which your users are converting then you can add various other strategies to reach your audience. In this way, you will get higher profits at less time.
Think from user end
While creating a blended marketing plan, you need to think of user also. Don't make the mistake of complicating the marketing process. To understand this, you can take a quick example that will demonstrate how your strategy will impact your audience.
We all know that most of the population makes the use of the internet to surf the web other than social media. If some group of people wants to buy something, they will open the eCommerce application on the mobile. And if we want to sell television then we create a television campaign.
As most of the people prefer mobile for browsing rather than desktop. So, if we provide a discount on the purchase of television through mobile then the rate of conversion becomes high. So, when you think from the user end then it will segment your target audience and you can easily reach them in an optimum way.
In short, blend marketing will create chances to enhance your sale funnels if fruitful strategies will be created. So, let's discuss the ways to create a blended marketing strategy for your business.
Creating a blended marketing strategy for your business
If you are thinking to use blended marketing for your business then it is important to create a strategy first. It is not that difficult to implement blended marketing for your targeted audience. Follow these points to get an idea of how to create a marketing strategy:
Understand your customer behavior: It is very important for you to understand the market needs and then create strategy whether offline or online. This will benefit you and your customers.
Incorporate available resources: In order to craft your marketing strategy, you need to make the good use of resources available in the market. For instance, if you want to publish your content and engage customers then you can try offline as well as online medium available in the market. For offline methods, you can make the use of magazines or journals that publish your content and it will help you to engage more customers. While if we talk about online resources then you must use online platforms to publish your content. In this way, you can utilize the blend of both offline and online marketing strategies.
Promotion on various online channels: Promoting your brand is the most fun way to engage the audience. You can make the use of different marketing channels like advertising or sharing on social media. It will create a good image of your brand and improves company position in the market.
Creating a perfect pricing strategy: Price always depends on the demand for the product. Therefore you can create proper research on market prices of your product and then set them so that users and businesses both get benefit from it.
These are some ways to create your blended marketing strategy to drive more people towards your business.
Conclusion
Blended marketing is the best method to promote your business as it mixes both offline and online market. The best way to execute a blending marketing strategy is to create online efforts with the potential to the offline marketing strategy of the real world.
Once you define your business goals then it is important to create proper research on different factors that influence your target audience. Once you define them, you can clearly make marketing efforts to gain brand awareness. It is very important to spend a lot of time in research of your business in the market because it will be more effective for you.