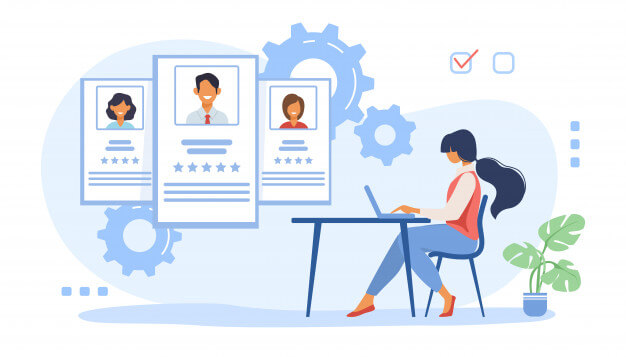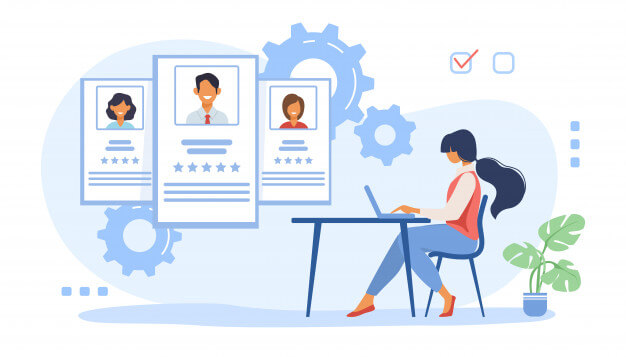 The population of India is around 1.2 billion, while overly sixty percent of the people are close to thirty ages. Some of them are searching for their jobs while some of them are thinking of changing their current one. Around half of the working people have been thrown out of their jobs due to this pandemic.
However, it is not easy to get a job of your choice. To get another job, every person makes the use of job portals. These websites help millions of people to get their job. Apart from job portals, social media sites like LinkedIn or Facebook also provides facilities for jobs. These sites help people to connect with employees and get the job of their choice.
So, making the right use of the Internet, you can easily search for jobs of your own choice. To simplify this process, job portals also allow you to get filtered options. You can filter and sort jobs according to location or salary and much more.
These filters make the job searching process easy. Almost all job portals provide filters that give jobs according to your preferences. So, if you are the one looking for a job then you are in the right place. In this article, we are going to discuss the best job portal sites in India that you can make use of to find your dream job.
Best job portals that help you find the dream job
With the number of job opportunities, people are getting nowadays, and these job portals play an important role in the process of job searching. Most of the people make the use of these jobs providing websites while others go with references or consultants. There are large numbers of websites present in the current situation.
These websites will provide you ample opportunities to find your dream jobs. There are a number of websites that provide job searching opportunities. But with these, it is very difficult for you to determine which one is the best. Don't worry. We are here to discuss the best job portals in India. You can choose from the list below. So, let us get started.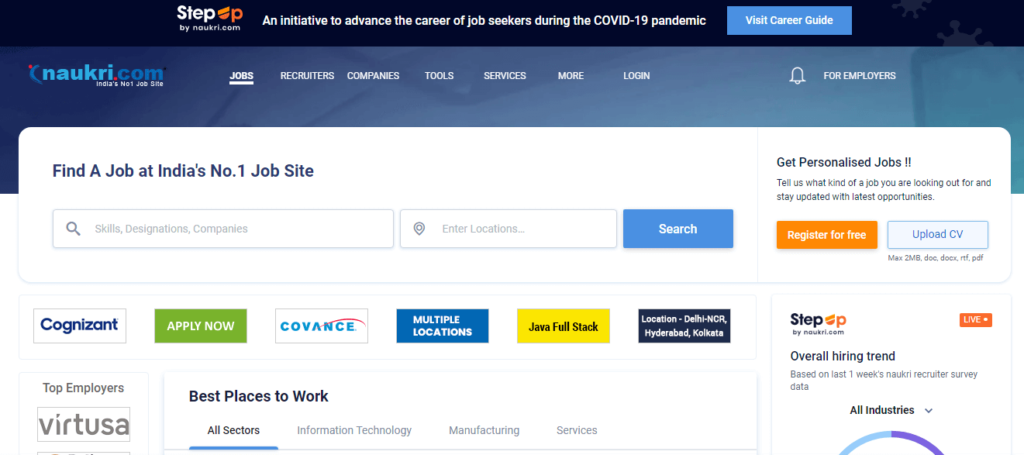 One of the biggest job portals of India is naukri.com. This amazing job searching platform had been launched in 1997 and provides ample of opportunities for job seekers. This is considered to be the best high rated job portal website in India.
You can easily register in this job portal for free. Once you register with this job website, then you can easily find jobs of your own choice with a single click. This website is very easy to use and provides you a various set of features. With the registration of this website, you can easily share your profile among recruiters.
Your Naukri profile will be shown to advertisers as well as non-advertisers who are looking for job opportunities. You can also keep track of the application you have submitted. This will help you to see whether the recruiter is interested in your profile or not. So, make use of this job portal to get your dream job.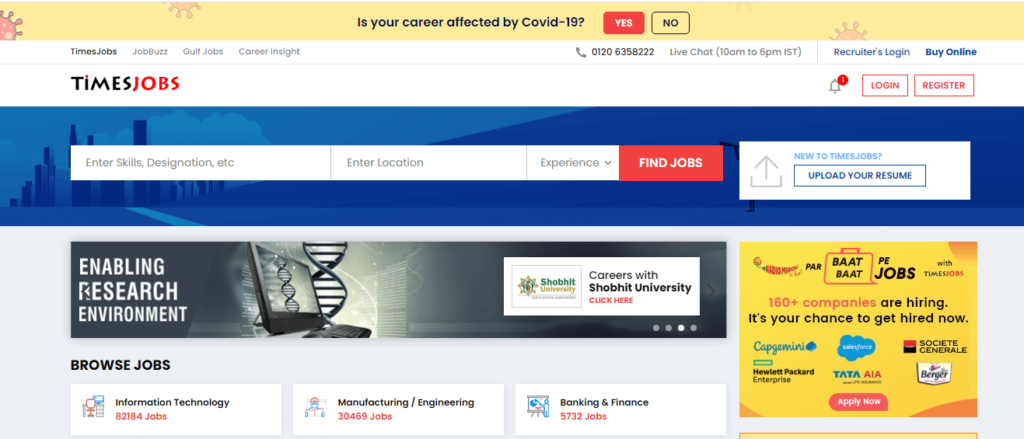 Times job is another best job portal in India. This job website is owned by Times Group and provides you full time to part-time job opportunities. Over a million people have downloaded their application and searching their dream jobs with this.
This job portal is also used for applying for a government job along with a private one. You can easily filter jobs based on various filters like location, skills, salary, etc. You will get great work opportunities based on career insights. This is completely free to use and gives you various career opportunities. This portal is worth to use.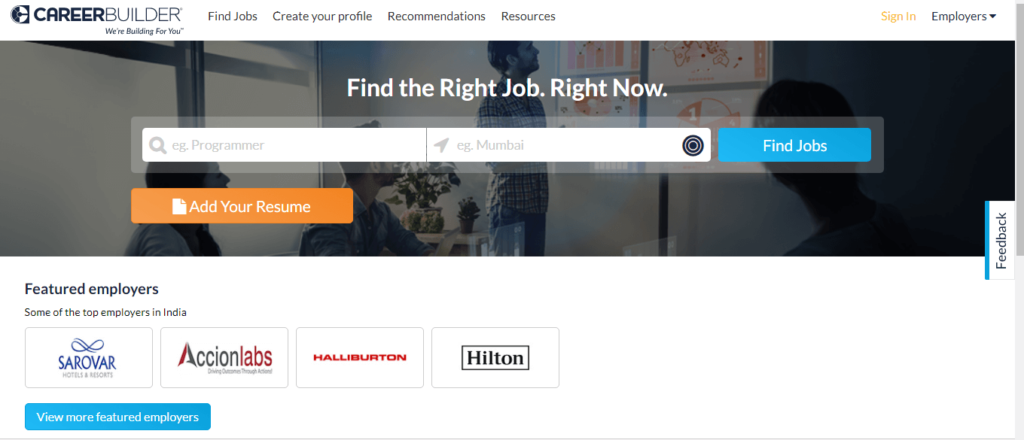 This is another major job portal that gives you job searching opportunities. It works the same as other job websites that means you can create a profile here and search the job of your own choice.
You can easily upload a resume for the jobs you are finding and wait for the recruiter to apply. This job portal has a feature of referral in which you can refer someone to a company. This will increase the chances of you getting hired from a reputed company.
However, you need to pay for this feature as it is not free to use. Otherwise, you can use a career builder for free to use its other features. This website is easy to surf as well as provides you better job opportunities. It also has easy to use interface where you can apply for filter and search jobs. So, go and make the use of this job portal to find a perfect job for yourself.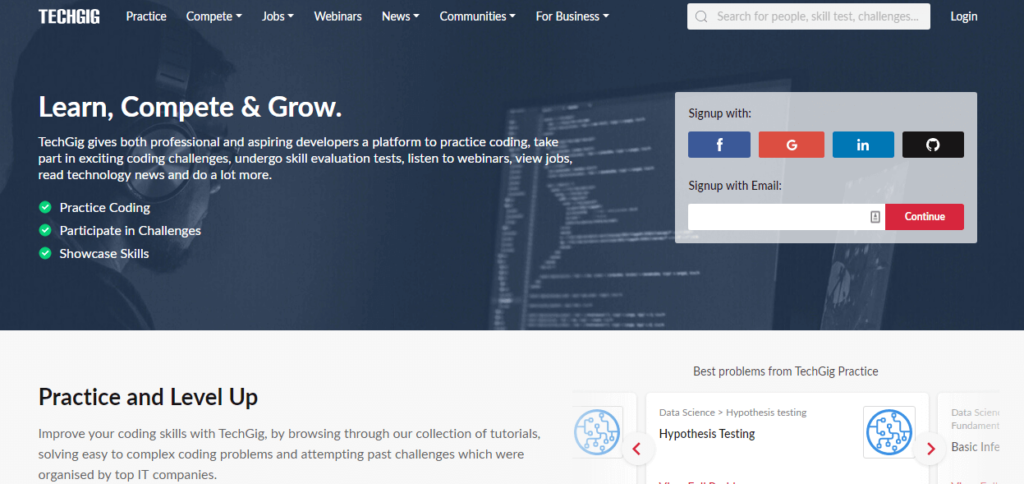 If you are a coder and searching for better job opportunities, then you can go with this job portal. Techgig is specially designed for coders and developers. You can easily search for the job you are looking for and apply them.
It also offers a lot of features for practicing testing and coding skills. With their various challenges, you will not learn about your coding skills but also earn money from the prize. You can also book useful webinars to test your skills. This platform helps you to prepare for job interviews. So, get ready to be selected in your tech job with the help of Techgig.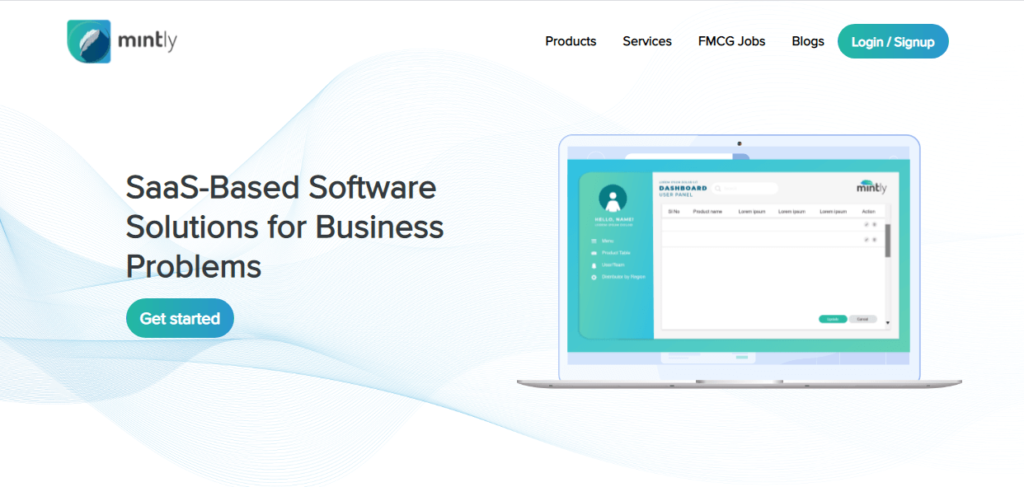 Mintly is considered to be the best job portal in India. You will get 24/7 assistance here for your job needs. Therefore, you will get your dream job with ease, along with proper guidance. This portal provides you abroad NRI jobs with regular jobs. You will also get a blockchain referral service to check the background of recruiters. You can easily use this job portal for free. This website provides you easy to use interface.
Conclusion
Here in this article, we have listed some top job portal websites that you can use for finding the job. We hope that if you use these portals, then you can easily find your dream job. So, go and create profiles on these job portals and let recruiters hire you.