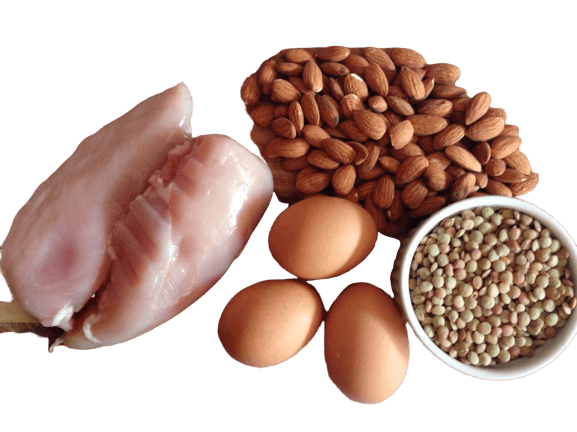 constant weight gain??
LET PROTEIN BE YOUR SAVIOR!
Your weight is constantly controlled by brain (hypothalamus) which in turn secretes hunger hormone. The release of hunger hormones is also regulated by feeding habits.
a higher intake of protein rich diet actually increases levels of the satiety(apetite reducing hormone) GLP1,PEPTIDE-YY,CHLOECYTOKININ,and reducing hunger hormone GHERLIN.
By replacing carbs and fat with protein, you reduce the hunger hormone and boost several satiety hormones.
This leads to a major reduction in hunger and is the main reason protien helps you loose weight it can make you eat fewer calories automatically.
How to get PROTIEN IN BREAKFAST
Never ever starve yourself before the workout because this will increase your fat absorbing ability in body .Doing harm rather than any good .
like WHEY protein , bananas ,granola bars are best to be taken before workout however the usual confusion about taking the protein shakes before or after workout is still a concern for many .
The nutritionists mostly suggest that taking the protein shakes before or after isn't much of an issue as its important act is to repair the torn out muscles. The whey protein powder is made from protein found in liquid part of the milk and can be purchased online.
Your breakfast must include protein rich diet like eggs which are rich source of protien and also give you sense of fullness avoiding you to indulge into other carb rich food .You can also include milk ,sprouted gram and nuts.
It is a compulsion and acts as a boon. one study from 2011 published in the JOURNAL OF NUTRITION AND METABOLISM, found that including nuts in the diet over 12 weeks led to improvements in diet quality, without any weight gain. Gourmet, Nutraj, Nutty Gritties provide some of the best nuts ,Emerald nuts are best for pistachios.
It offer about 17 g of protein per 100 g.Raw oats are easy to prepare and can be flavored with fruits and nuts .KELLOGS offers raw oats as well oatmeal though packed oatmeal usually contain added sugar hence should be avoided.
It has abundance of protein and rich in calcium and other minerals.Females undergoing weight loss process usually suffer from osteoporosis eroding of calcium from body hence cheese is the best way to sustain calcium in body.Kraft foods Amul cheese and The Cow Girl Creamery are some best brands to go for it
PROTEIN IN LUNCH
PEAS PLEASE!….
yes peas are highly rich in protien,vitamins ,minerals and fibre .Protein within split peas has greater impact in reducing hunger compare to whey protein in milk'.
They are high source of protein and the best way to offset hunger.Yogurt has two types of protein  casein and whey both of which play an important role to control hunger and overall intake of food. Amul yogurt is known for its quality and freshness however yoplait top is equally good with low level of sugar .
It contain a hefty dose of plant protein and fiber are easily accessible and affordable and also promote heart health.
It is one of the only  complete sources of  vegetarian protein.It contains all 11 amino acids to make the complete protein making it an excellent choice for vegans or those who do not eat enough meat.
TURKEY
It packs powerful punch of protein.Boneless turkeys contain 13 g of protein per 100 g.
It comes from soybean like tofu.However it has higher protein count than tofu offering about 17g per half cup finding them can be a bit difficult but some stores carry them in refrigerated  vegetarian section.
It is an excellent and widely available source of protein with lowest level of calorie.Can be added to salads and snakes too but while dressing up the salad one must not add too much of calorie.
PROTEIN IN DINNER
IDLI ..
yes idli this may sound bizarre but idlis made up of moong daal make u feel fuller for longer and is light for your stomach .And most importantly one doesn't has to compromise with the nutrients. Idlis are light for dinner and one can try making them with different pulses so as to not make it mundane.
CHICKEN AND SWEET POTATO
It is another amazing source of rich protein and essential nutrients is chicken.You can make a delicious amount of chicken salad with exotic vegetables and sweet potato. Sweet potato has decent amount of protein and also regulates overall health.
One cup of raw broccoli has almost 2.6 gm of protein and contains variety of nutrients such as folate and pottasium.
It has lot of protein with fewer calories. one cup of chopped cauliflower has 27 calories and 2 gram of protein . Is light for dinner and could be added as a salad too.
Also known as bok choy derives most of its calories from protein .It aloso contains high anti-oxidants has dietry fibres which eliminates excessive fats from the body.It also help body protect from cancer and help to lower LDL level so all in all this vegetable has multiple health benefits.
However chilli-pepper and coconut oil
They aren't rich sources of protein but play vital role in weight loss .Chilli-pepper contain chemical capsaicin that has benefits for weight loss.a 2012 systematic review , published  in the journal APPETITE,shows that capscian heps burn fat also cuts down on hunger ensuring weight loss.
And as far coconut oil is concerned it contains high level of medium chain of triglycirides that many scientists believe can increase energy consumption and reduce fat stores. A meta-analysis from 2015, which appeared in JOURNAL OF THE ACADEMY OF NUTRITION AND DIETICS,found that these medium chain triglycirides could lead to weight loss.according to survey conducted by  HEALTHTRENDS Viva NaturalsOrganicExtra virgin coconut oil,Kirkland Signnature,Nutiva Organic are some of the brands with very low level of calorie and helpful in weight loss process .Carrying out your usual cooking in these oil can be beneficiary.
AT WHAT TIME OF THE DAY DO WE BURN MOST CALORIES?
A recent study found that people burn 10 percent more calories in the late afternoon and early evening than do they in the early morning hours so this might be the best time to intake calorie rich food during those cheat days.
WHY EXERCISE IS EQUALLY IMPORTANT?
Due to high thermic effect and several other factors achieved via exercising ,a high protein intake can boost metabolism making you burn calories around the clock even during the sleep.
BOTTOM LINE :
A high protein diet combined with routinely exercise can help burn 80-100 calories per day , with one study showing the increase up to 260 calories during overfeeding