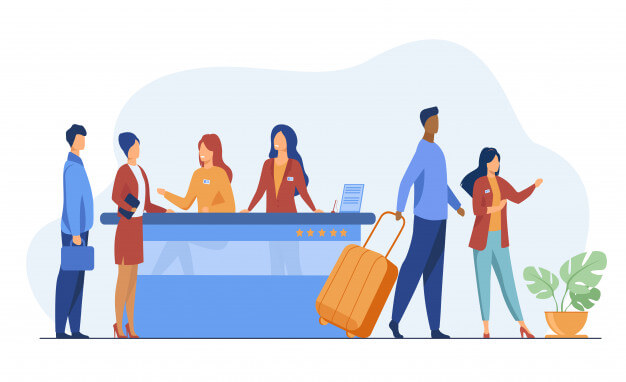 The main goal of each business owner is to attract more clients, satisfy their needs and grow revenue. Making your hotel business flourish is challenging so it's important to apply various tricks to achieve desired results.
There are diverse ways to stand out from the crowd of competitors and increase hotel revenue in the forthcoming year. We will discuss these opportunities in the article.
7 Effective Ways to Grow Hotel Revenue
Down below you will find the most effective tips that will help you to increase revenue, grow occupancy, and attract new visitors to your hotel. Let's get started.
Social Media Presence
Social media became an integral part of our everyday lives a long time ago. Building strong social media presence is vital to raise brand awareness, attract people, and turn them into your clients.
It's one of the most common ways people discover brands, products, and services they are interested in. If you still don't have accounts on top social media platforms, then it's high time to create them.
Use social media to share the latest news and events about your hotel. Show people high-quality appealing pictures that will encourage them to book a room in your hotel.
Launch advertising campaigns so that more people can find out about your brand. The potential of social media is immense so don't miss the chance to get on top.
Influencer Marketing
Influencers can affect the decision-making process of people. Therefore, influencer marketing is another step that will help you build recognition, bring more clients and, respectively, get more bookings.
Influencer marketing is a special type of collaboration between an influencer (or celebrity) and a certain brand. A person with a strong online presence can raise your brand awareness fast and tell about your hotel to his or her audience.
People trust influencers' opinions so they will be more likely to check out your website or even book a room. Entrust an influencer with advertising your hotel via a video, social media post, or article to get results. Let a local celebrity tag your social media account or add the link to your website under the post to allow direct access to your hotel page.
Responsive Web Design
Making your website mobile-friendly is already a requirement. It's crucial for your hotel business as most people use their tablets or smartphones for their online activities.
Getting a shrunken version of your website won't be enough. You should create a unique design that will be intuitive, simple, and convenient for easy screening of your website and effortless booking.
After optimizing the visual look of the website, take care of its speed as well so you don't lose potential clients because the web page was loading way too long. Moreover, making your website mobile-friendly will help you improve your Google ranking so more people will observe you in search results.
Content Marketing and SEO Activities
According to Digital Authority, you should invest in content marketing and SEO activities to increase website visibility online, get higher Google ranking, and stay on top of search results.
To make the most of the content on your website, you have to share only valuable and interesting information there. Tell more about your brand, success story, share customers' feedback, post useful content.
Don't forget to add high-quality images that will not only retain people on your web page but also improve Google ranking so you can stay on top of people's minds. Search engine optimization might include various activities. First of all, you should research relevant and popular keywords and phrases and add them to website content and meta tags.
Also, it's recommended to place backlinks that will attract the audience to your brand. You can also use social media accounts to backlink to a hotel website.
Loyalty Program
Loyalty programs are not just about attracting new customers but more about creating a loyal reliable client base. Discounts will help you to draw attention to your particular hotel, stick to it for a long time, and come to visit again.
For returning visitors, you should offer discounts so they have the motivation to keep coming back and stay at your hotel. Discounts for booking a room in advance work perfectly as well.
In addition, you can offer discounts for different groups of people that would be interested to book a room. These could be a student discount for holiday season or a family discount for a big company.
Corporate Collaboration
Business trips are becoming more and more popular. So it's time for you to benefit from business travelers and increase hotel revenue in the next year.
Collaboration with corporations will allow you to provide accommodation only for the employees of a certain company. They will also have a place to stay during business trips; therefore, you will always have clients.
Offer them an appealing package that will make a company stick to your hotel and establish an effective partnership. The collaboration like this will be an irresistible win-win deal.
Review Management
It's imperative to take proper care of your online reputation. Reviews that people leave on different sites about your hotel can affect the decision-making process of potential clients either in a positive or negative way.
Taking into account that reviews are the first thing that clients pay attention to, you should make online review management your priority.
By focusing on reviews you will be able to establish a positive reputation, expand client base and grow revenue.
Responding to each online review is imperative. You should pay extra attention to negative reviews and respond to them in a professional manner. It's also a nice chance to find out what's missing and improve your services in the future.
Summing It Up
By implementing these tips you will be able to grow your hotel revenue, attract more new visitors, and increase your online visibility. Each of them is pretty effective so hurry up and implement them for the forthcoming 2020 year to bring only tangible results for your business development process.