Multiple cloud accounts
Now in information age, one people own several accounts of cloud drives is not a news. Especially young people, they are used to store file in the cloud. Such as Google Drive, Dropbox, OneDrive, iCloud, etc.
The biggest advantage I think is that users can access to their data on different devices wherever they go. Almost all cloud drives have client or app, used alone is OK, but when you want to transfer data from one cloud to another?
How to do?
The same brand maybe moved between easily, different brand can't move directly. Download then re-upload? They used to do like this, but now, with a tool called MultCloud, you can copy&paste like in Windows explorer.
About MultCloud
What is MultCloud? As its name suggest, it is a multiple cloud manager. How to manage? It combines all cloud services together, then manage them in one place. MultCloud is a web app that you can use it on any browser.
Register MultCloud is free, you can add unlimited clouds into it. MultCloud does not provide storage but traffic, when there is transmission will cost traffic. MultCloud gives you 50GB traffic initially, and it allows you to upgrade to TB.
MultCloud supports more than 30 clouds: Dropbox, Google Drive, Box, Amazon S3, Amazon Cloud Drive, SugarSync, Alfresco, Hubic, Evernote, OneDrive, MEGA, CloudMe, Cubby, MyDrive, WEB.DE, Yandex, HiDrive, MySQL, Flickr, MediaFire, OwnCloud, ADrive, BaiDu, WebDav and FTP/SFTP, etc.
Features of MultCloud
The core function of MultCloud is transferring, move files between cloud services. Before talking about it, I would like to introduce you other functions. Right click a file, you can find a series of functions: cut, rename, delete, preview, upload, download, create, share, go to official site.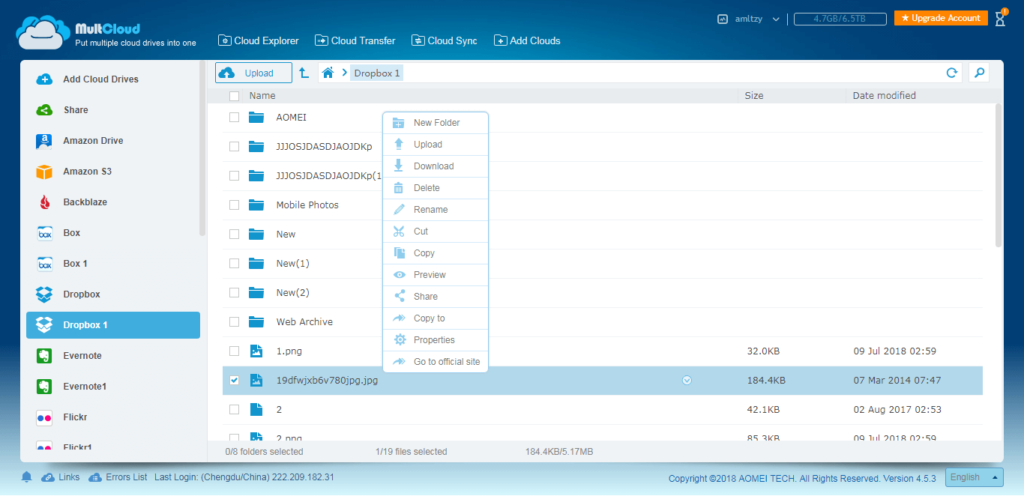 MultCloud is powerful! The Upload option not only allows you dragging files to cloud directly, but also upload URL is OK, the URL could be a download URL, then MultCloud will help you resolve it. The Preview supports many types: jpg, png, gif, pdf, xls, doc, txt, html, js.
If you want to share your file to your friend, you can create a share link by Share option. Three kinds of links. You can check your shares and received shares in the Shares window. Find target file across clouds via MultCloud's search box is very easy.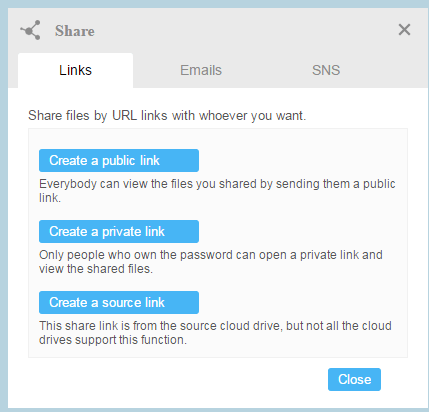 Now comes to transferring. Copy and Copy to option can do this, drag&drop by holding mouse is working as well. Switch to Transfer Service, you can set more details for transferring. For example: filter, overwritten and email notification. Scheduled file transfer and so on.
MultCloud can run multi-server parallel transmission, you can check them in Task Manager. Besides transferring, another core function of MultCloud is syncing, you can try this under Cloud Sync window.
Final words
MultCloud is such an interesting app, I think you can't wait to try. MultCloud designed "Experience without signing up".
You can try it first, MultCloud will give you a random username and password, you can change username&password to yours at any time if you trust MultCloud.
MultCloud is safe to use, there are at least three guarantees to protect your data: applies 256-bit AES Encryption for SSL in transfer, MultCloud does not save your data and files, OAuth authorization.