Why need one-click backup&restore software?
Nowadays, computer becomes very popular in our society. Everybody has computer security awareness. Create a system backup is necessary. For common people or lazy man, they pursue simple and fast backup. One click or one key backup&restore is suitable for them. Full-scale backup software they need few times or never.
Many people choose laptops because it can be taken wherever they go. And, good news is that many laptop vendors provide built-in one key backup&restore program. For example: Lenovo OneKey Recovery, Dell Backup and Recovery Manager, HP Recovery Manager, etc. Many brand desktops also have one key recovery tools. However, after you reinstalled the system, updated the system, or resized partition, the integrated one click recovery program may not work well. And, in fact, most people's computers are DIY. What they need is a third-party one key recovery software.
Why choose AOMEI OneKey Recovery?
When we plan to find a satisfying one click backup&restore software, we will consider many factors. First, the brand. AOMEI Technology has Windows partition manager – AOMEI Partition Assistant, Windows backup software – AOMEI Backupper and a multiple clouds management app – MultCloud. AOMEI is trustworthy. AOMEI OneKey Recovery is a freeware.
The main concern is its functions, strong or not? Before using it, users will Google its information to know about it. AOMEI OneKey Recovery gets good review on LifeHacker and other famous technology website. You can watch many video reviews or tutorials on Youtube. Almost all information on Internet indicate that AOMEI OneKey Recovery is an excellent product.
Know about AOMEI OneKey Recovery
I have used AOMEI OneKey Recovery for a long time, now the latest version is 1.6. Compare to previous version, the biggest changes of 1.6 is that it has five editions. AOMEI OneKey Recovery Free Edition, AOMEI OneKey Recovery Professional Edition, AOMEI OneKey Recovery Premium Edition, AOMEI OneKey Recovery Technician Edition and AOMEI OneKey Recovery Customization Edition.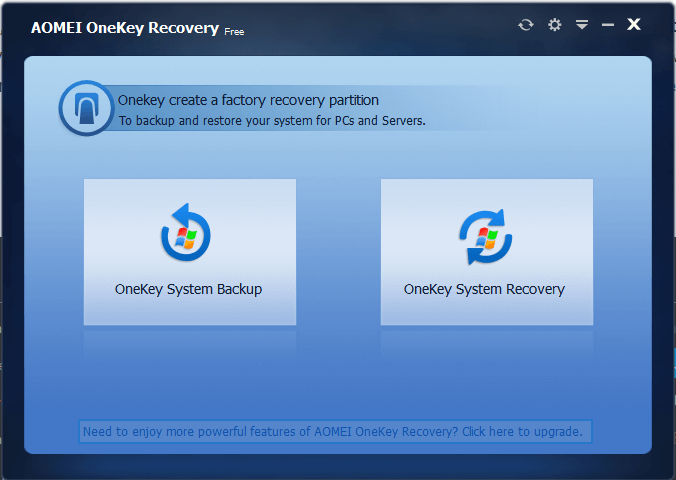 For normal users. AOMEI OneKey Recovery Free Edition is OK. It is the easiest one to use, you don't need to think too much. Advanced editions have more selections.
AOMEI OneKey Recovery Free Edition is used by most people, it is real one-key backup & recovery. Download, install and open it. Select system backup, click the yellow Next button will start the system backup task.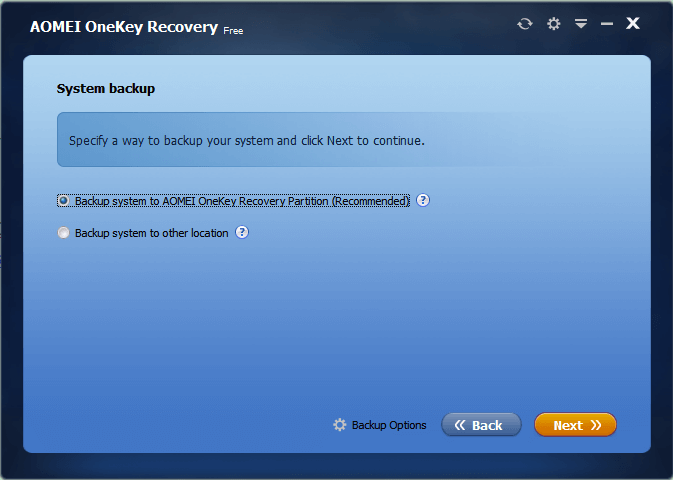 Summary
If you need to back files or disk, please choose the all-in-one backup software download – AOMEI Backupper. If you only need to backup system and don't want to spend lots of time, AOMEI OneKey Recovery is the best choice. It supports various types of storage devices and disk. Powerful compatibility is another reason makes it a great tool.