Apple's operating system, iOS is going to become much better after iOS 12 upgrade. This new operating system has numerous varieties of sophisticated applications to make it a one-stop destination for the iPhone and iPad worlds. No matter, whether it is storage (iCloud), music (iTunes), or any other function, the system has an app for performing the job.
Even though iOS provide excellent performance, it has some downsides, especially with iTunes.  Since iTune follows the same old or nothing approach, many people face difficulty while backing up or syncing iPhone using iTunes. On the other hand, iCloud cannot backup certain contact, photo or messages based on user desire.
In fact, both cannot backup iOS device files, which you have downloaded online or imported from the system. Out of all, Apple has failed to provide control over data management for the users though it is great in several ways. Hence, before upgrading to iOS 12, you have to find the best alternative to Apple iTunes. This is where DearMob iPhone Manager comes into play.
This simple yet effective iOS manager simplifies the process of keeping your iPhone updated. It also provides a way to back up your iOS devices without using iTunes. DearMob is the perfect option for those who dislike iTunes and store their data in iCloud. Continue reading to know more about this iPhone manager and ways to backup iPhone selective and fully using them.
How DearMob iPhone manager can help iOS users?
Are you thinking about the reasons for choosing DearMob iPhone manager to backup iPhone before iOS 12 update instead of using other third party apps? Well, the major reason behind this selection is its killer features and unlimited benefits. Actually, the application has everything you require to manage your iPhone and other iOS devices. The best part of the app is its better UI (user interface), which is extremely easy to use.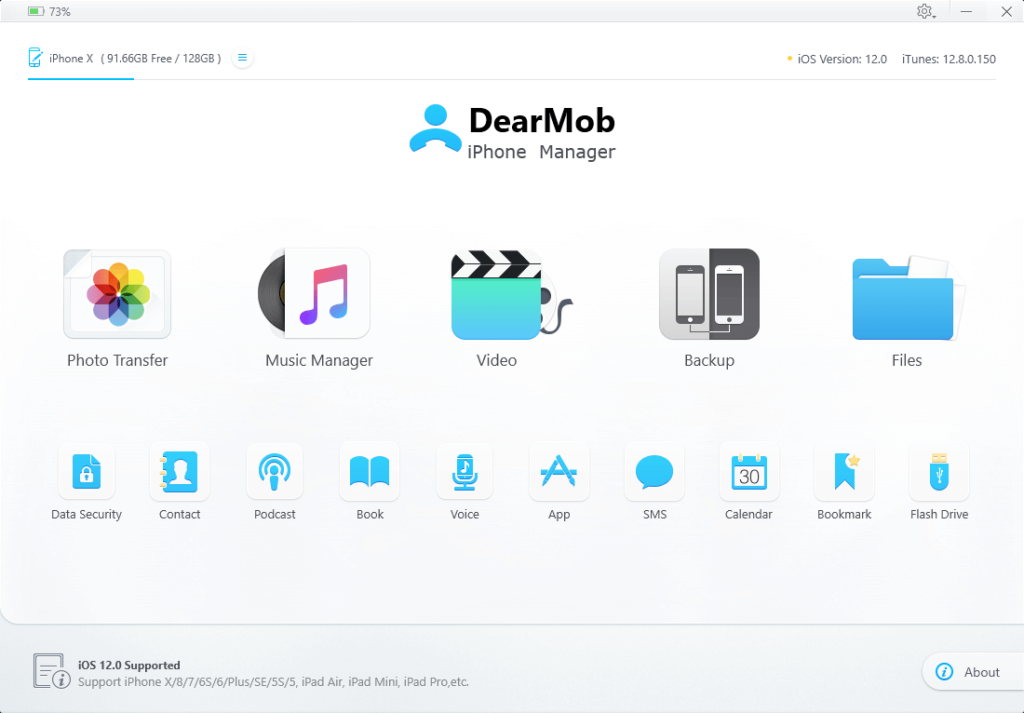 Moving on to the major features of the DearMob, below mentioned are some of the impressive features.
One-click full backup and restore iPhone within a short time
Advanced backup and selection restore such as contacts, books, and photos
Backup and restore iTunes purchased movies, apps, music, and books
No need of iTunes, which does not erase anything against your will
Transfer photos in JPEG format easily
Have a complete set of video management tools
Import files and books like a pro
Access it as the portable flash drive
Music synchronization and apps manager
Advantages of using DearMob to backup iPhone
Are you thinking that DearMob file manager allows you to access only your files offline? Well, it is not true because it also delivers some functionality, which makes sure iOS become much better by making it easier to access. It also allows you to backup and restores your iOS devices data to your desired device irrespective of whether you use a MAC or PC. Additionally, it avoids you backup your data to iCloud through iTunes and uses a speedy alternative.
Most people who use iTunes quite confusing to navigate but this app provide a streamlined interface, which is easy to use and understand. Additionally, the DearMob iPhone manager has come with a limited giveaway special offer so that rush and make use of its benefits soon. If you are using the free version, then you have limited access to features such as data limit but paid version provides you fully featured experience.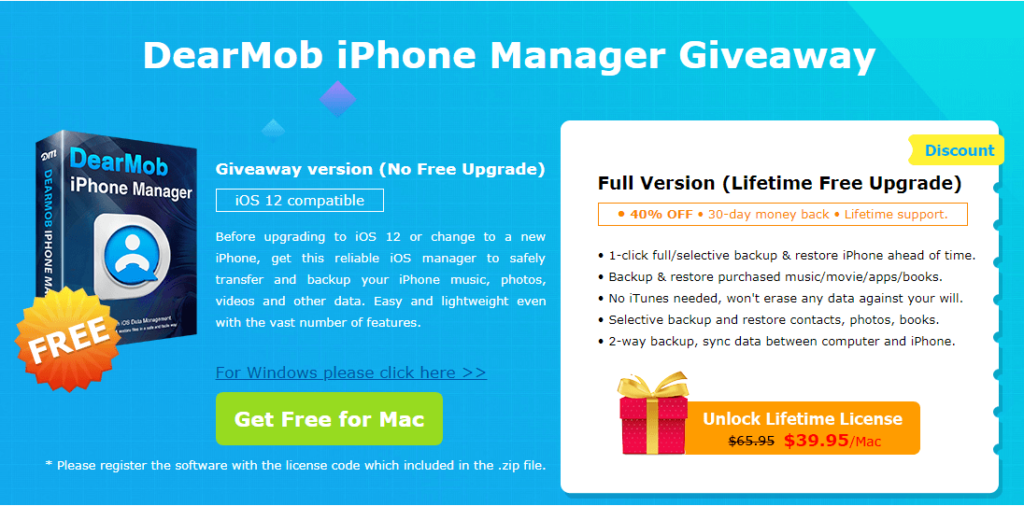 In terms of security, the app comes with enhanced security standards. When you copy data from your iOS device to PC, it overwrites the original data on the disk directly with encryption. Rather than developing unencrypted originals, they are not easy to erase completely. This little app relies on multiple encryption algorithms for additional security. It includes 1024-bit RSA, Argon 2, PBKDF2, etc.
Along with this, it also provides password protected backups and specific backup formats that are compatible with other device. For example, it pulls all your SMS into easily readable PFD format and converts the photo from HEIC to JPEG. Users can now unlock the restrictions of iTunes purchase books, music, and movies with DRM removal feature of the app. It allows you to transfer and backup those files/data to any device easily.
Out of all, this smart app does not need iTunes because it runs independently without using any Apple service. Furthermore, it also opens up several new possibilities for your iPhones by allowing you to install any apps, which are not in the Apple app store. Thus, it extends the functionality of the iPhone, which is nice to hear.
How to backup iPhone without iTunes before iOS 12 update
If you want to backup iPhone without iTunes, then you have to follow the below-mentioned steps.
First, connect your iPhone with your PC or MAC using a USB cable
Press trust this computer on your iPhone if it is necessary
Now, launch DearMob iPhone Manager and activate it using giveaway license
Once the device detected the software, hit the backup button in the main interface i.e. Press back up now to begin iPhone backup process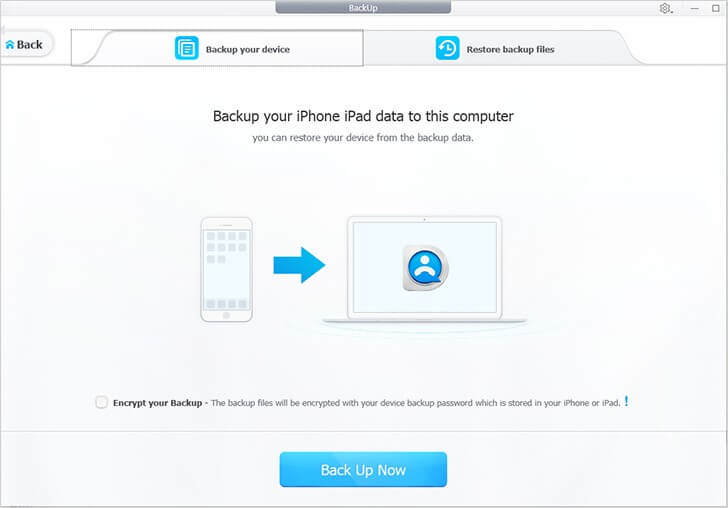 In the backup window, you will able to witness that there is a restore backup files button. If you wish to restore your iPhone backup from PC to iPhone after iOS 12 upgrade or changed new mobile, then you have hit restore backup files button. Now, you will notice the list of your previous backups, which includes iTunes backup history. You can choose any one of the records to restore files to your iPhone.
How to backup iPhone selectively without iTunes
Do you wish to perform a selective iPhone backup such as video, photo, contact, music, calendar, etc?  Well, you need to press the respective icon from the DearMob iPhone Manager main interface. For users concern, steps to backup iphone photos mentioned here.  You can use the same steps to back up and restore other specific data.
Hit photo icon to enter into your iPhone photo library where you can view all your photos by data and by albums
Select the photos, which you wish to backup and press an export button from the top. Or, you can simply drag and drop the selected photo to the specific location on your PC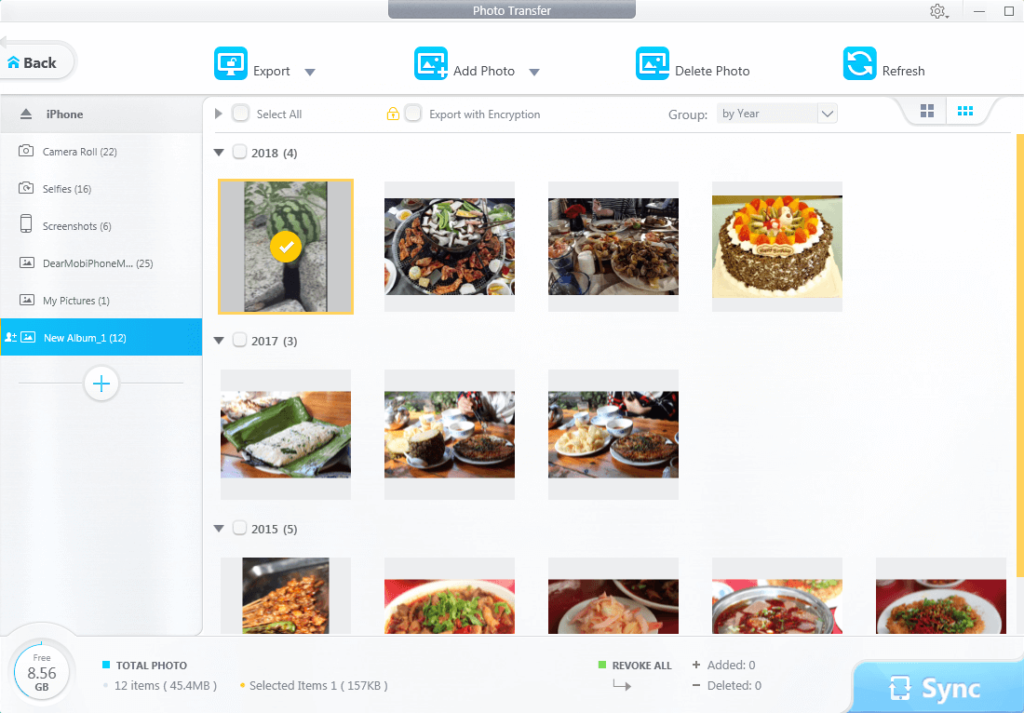 If you want to selective restore the picture from your backups, press the add button from the top banner of DearMob iPhone manager photo window. Now, you will be free to restore any photos you wish. Since the files are not exported originally from your iPhone, you need not worry about data loss.
Remember, giveaway promotion lasts only for a few days so that get this excellent and useful iPhone backup software before iOS 12 update for free. Say goodbye to iTunes because DearMob iPhone Manager is worthy iTunes replacement as it has a lightning fast backup – restore, easy installation process, and a simple interface.
About DearMob
DearMob is the devoted and leading software provider along with the forefront-developing outlook. Through the innovative product tagline such as DearMob iPhone Manager, free iPhone music manager, free 5KPlayer, etc, DearMob stands tops in the software industry. The brand ultimate aim is to offer competitive products for the Windows/iOS/Android/MAC users in the upcoming years.