Moving data from one OS to another can be quite troublesome at times. Many users who own Android think of having next new phone as iPhone. We love buying new gadgets and upgrading our phones often. But the basic problem that almost all of us encounter is retrieving WhatsApp messages from our old phone to new phone.Learn more abouy how to make vr for iphone.
As we all know that WhatsApp has become one of the popular app for communication, we cannot imagine ourselves without WhatsApp. We may require WhatsApp for official communication as well as personal communication purpose. Android users wish there could be an easier way to transfer videos to iPhone. We can certainly help you learn the easy way out to move your WhatsApp messages from your Android phone to iPhone. If you don't prefer any of these methods, you can Transfer Whatsapp Messages from Android to iPhone Via dr.fone.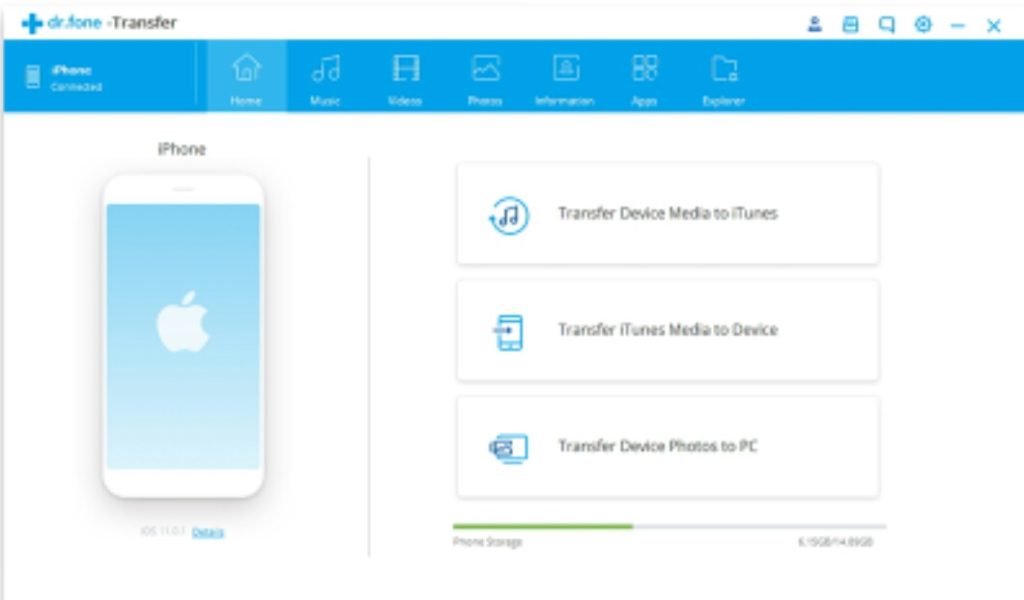 Transferring WhatsApp Messages from Android to iPhone through Email chat
Follow the below listed steps to carry out the transfer.
Open WhatsApp on Android phone, head to "Setting- Chat Setting- Chat History-Email Chat.

Select the chat that you want to transfer it to your iPhone; you will get a window with the message asking you whether you want to transfer your WhatsApp messages with media or without media. In order to transfer the WhatsApp messages with media, it will take little longer.

Then you will be directing to sending page. Enter your email account and hit the sending option.

Now, log in to your email account on your iPhone device and now you can see the WhatsApp there.
Transferring WhatsApp Messages from your Android phone to your iPhone using Backup
There are few steps to Transfer WhatsApp Messages from your Android phone to your iPhone
Backup all your WhatsApp messages on your Android phone and go to "Settings-Chats-Chat Backup, and simply click on the button "BACK UP"

Now, uninstall the WhatsApp from your Android phone.

Set up WhatsApp on iPhone and then log in to the WhatsApp account that you are using.

Now you will see a window popping up to inform you "Message Backup Found", you need to click on "Restore".  All your WhatsApp messages from Android will be moved to your iPhone.
You may find the process of backing up WhatsApp messages a little complicated through backup as compared to the option emailing your messages. Still, it is worth the trouble using backup solution for backup as you can have the WhatsApp conversation still on Android phone too.
Transfer using iTunes
Firstly, make sure that you have the latest version of iTunes loaded on your computer. In case you are not having the latest version, you can download it before starting the transfer. Now you can Install the software named as Android WhatsApp to iPhone transfer and make sure your Android phone is already connected to your personal computer.
Before you connect your Android phone to your PC, it is always better tot backup the WhatsApp chats by heading to Settings-Chats-Chat Backup and then hitting "Back up" button.
You will see a message that may pop up on the screen of your Android phone asking you if you want to back up the data. Select the option "Back up my data". Now click on "OK" on your computer to progress.  It may take some time for your Android and PC to get paired, so you need to be little patient and make sure you do not try to disconnect Android device.
Note: You may need to enable your USB debugging first on the Android phone. In order to do so, head to "Settings", and hit "About Device" and press "Build number" at least 7 times to unlock the developer mode and again head to the options "Settings-More-Developer and enable your USB debugging.
Now once your Android device and PC are paired with each other, all the WhatsApp messages that you have on your Android should be visible on your PC. Now, se a lightning cable to connect your iPhone to the personal computer. Now, when both your iPhone and Android phones are paired up you can see them both being shown on the screen of your personal computer.
Even though a large number of apps are available on Android, you will come across the need to purchase an iPhone. However, best apps on android are mostly available for the iPhones as well. Therefore, you don't need to worry about anything when you go ahead and invest your money to purchase an elegant iPhone from the market.
Important tip
If you use separate SIM cards for your iPhone and Android, you can keep the SIM card on the Android device to get WhatsApp SMS/call for verification code that will be required to activate as well as install WhatsApp application on the iPhone.  Also, you can simply back up all your WhatsApp messages present on your Android phone to a local database of this particular program by hitting the button "Backup Messages"