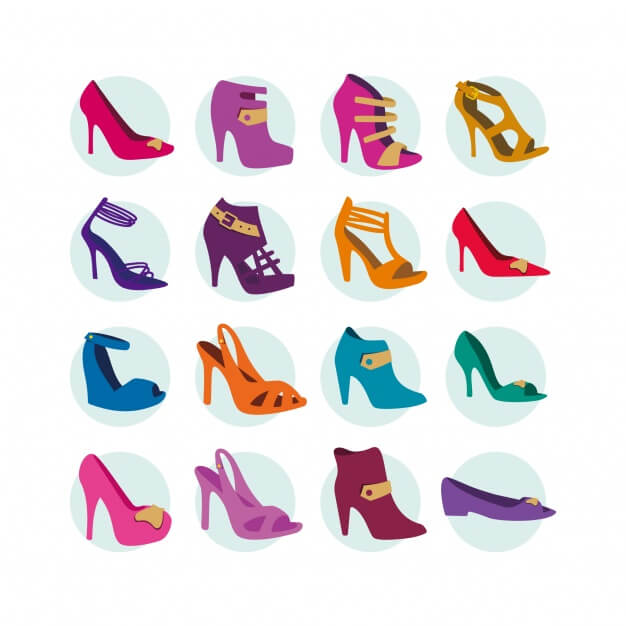 Whether you have just started to work in a shoe department or you have recently gotten your fashion sense, then knowing about the shoe definition is served to be a useful skill or you.
When it comes to selecting the right high heel shoes of your choice, then you must be aware of its types. We all know that the right kind of heels will not only add charm to your personality but also boosts your confidence.
Whether you want to go to a party or an office meeting, the right shoe plays an important role in transforming your look. The question here arises which high heel shoe suits you the best?
But, you do not need to worry as to whether you are after extravagant stilettos or an elegant pump. We will help you in selecting the right one for you. Here we are going to discuss the different types of high heel shoes and which one suits you the best. So, let us get started with the types of shoes you should buy according to your needs.
Types of high heels shoes you should know about
Most of us do not have much knowledge about the types of heels. However, we get charmed about the looks of the shoes and buy them accordingly. Without realizing whether they suit us or not, we just spend our money to buy them. Therefore, we have come up with an ultimate guide to different types of high heel shoes that you should buy accordingly. So, let us get started with the list of those shoes:
Block heel shoes
One of the famous types of shoe may every woman know about is block heel shoes. They just do not look super stylish but can easily suit with every style. The block heels have raised the fame due to its versatility and ease in walkability. Whether you are going for a party or a professional meeting, these heels will always stay a part of your daily routine.
These chunky, square-shaped heels come in various height options. You can adjust these block heels according to your weight and feel comfortable as compared to thinner heels. So, stand and walk comfortably with block heels.
Cuban Heel shoes
Another type of heels is Cuban heels that are resembled with the Cuban taken from the boy's style. These heel shoes are typically containing short to medium height heels and are found on ankle boots, loafers, and other closed shoes. These heels are solid in appearance and provide you comfort while walking. You will see a slight taper from top to bottom while wearing these heels with your casual look.
Cone heel shoes
Fashion comes with all sense; therefore, one of the most fashionable heels is cone heels that are defined with a sturdy base for a secure stand. Its narrow and delicate tip will help you stand in confidence and adds charm to your personality. You can add this type of heel with every dress you wear for your party. So, buy this versatile and timeless heel to flaunt your style.
Decorative heel shoes
Every lady wants to buy dream shoes embedded with catchy designs to add style to her looks. To fulfill this wish, shoe making companies have started created attractive heels with decorative material embedded on it.
This dreamy and beautiful metallic heels are eye-catching and serve to provide confidence while walking. These heels are exclusively made by shoe designers that make their imagination run wild. You can easily wear this pretty heel whenever you want to flaunt your style on some special occasion.
Flare heels
Just like flare jeans, these flare heels are also becoming wide from the bottom. This type of heels is considered to be one of the stylish heels women can wear. The beauty of these heels has been popular among women during the period of the '70s. You can easily wear these heels with a slimmer base and gradually widens up at the bottom.
French heels
French heels are also known as Louis heels or pompadour heels that come with the variation of spool heels. These short, curvy heels feature wide at the top and become thin in the middle. You can easily pair these heels with your suits or pants, which are broad at the bottom. These typically small heels are very comfortable to walk with and add style to your wearing.
High heel shoes
Every woman craves to wear high heels that come in all shapes and sizes. These heels are mainly four inches and long, which will boost your confidence and add glamour to your personality.
Most common shoes that contain high heels are pumped, stilettos, and high heel sandals. Whether you are going for an office party or with friends, you can flaunt your style wearing these high heels.
Kitten heels
Another type of heels is kitten heels that provide you an ultimate comfort if you prefer to walk in short heels. If you are taller and still wanted to wear heels, then we recommend you to wear these stylish heels that look pretty while walking. This type of heel is typically thin and short in inches. You can pair them with your formal pants.
Medium-sized heels
These type of heel shoes comes with perfect heels that are not too short or long and suits on every occasion. These are only three or four inches tall and ideal work shoes to improve your posture. You will not feel too much strain on your feet balls while walking with these heels. So, pair them with every cloth whenever you go outside.
Conclusion
Heels are the pride of women wear. Whether you go to a party or an office meeting, choosing the right footwear will help you out. Here in this article, we have mentioned different types of heels that you can choose depending on their comfort level and occasion for which you are going to wear. We hope that this article gives you a clear idea while choosing the right heels according to your requirements.