Since smart phones have evolved over the years, carrying around two bulky items like your phone and wallet turned into a hassle. Shieldon understands people wanting to have a fancy wallet as well as a phone cover and thus they came up with the leather mobile case including pockets to use as a wallet. Shieldon specialize in offering a selection of cases for your iPhone or Samsung phone.
These leather cases also protect your iPhone's screen from getting scratched by loose items in your briefcase or purse. The cases come in your choice of strap closure or magnetic closure. Based in Hong Kong, Shieldon celebrated its 8th year anniversary in 2018. Shieldon is continually adding new products to its inventory as new phones hit the market. Their latest releases include the luxurious iPhone wallet case, iPhone X cover and Samsung S9 plus cover.
Shieldon leather cases are made from genuine cowhide leather. It sports a professional profile as the hides are selected for strength, quality, and grain and premium quality. The leather case gives you a skin like touch with its natural sheen and smell. It has a magnetic closure along with bold and reliable stitching which would not pull apart over time.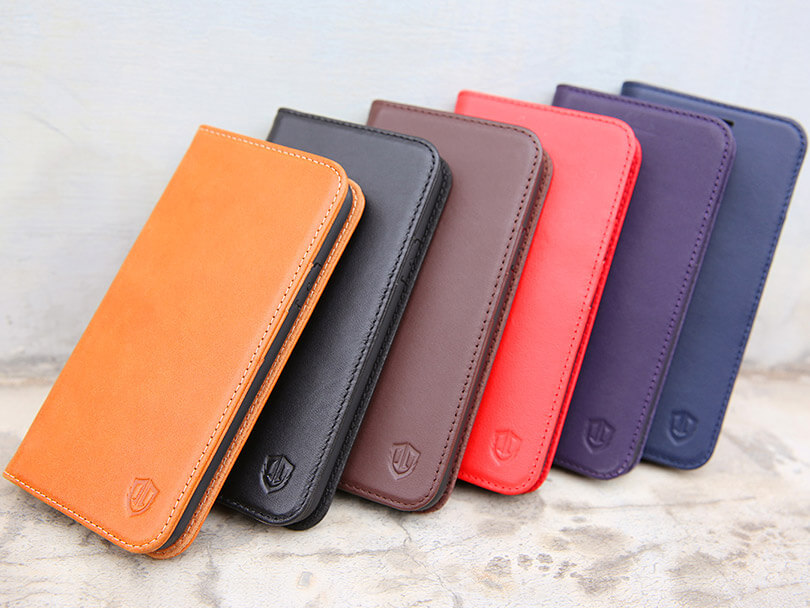 Design:
Soft thermoplastic polyurethane interior case ensures your phone against drops and bumps. The genuine leather along with the TPU provides extra protection to your phone. You will also find soft and wear resistant microfiber lining on the inside to keep your smartphone from scratching.
The case is suitable for everyday use with convenient cut-outs for speakers, camera, flash and other functional ports for you to operate with. The raised edged protects the camera from scratches.
The invisible magnet closure allows you hassle free use and also keeps your belongings in place.
The stand feature gives your phone a viewing angle through its invisible kickstand that can be switched to a horizontal position; thanks to the flexible grooves on their backs.
The phone needs to be snapped in a plastic shell inside the case. The case comes with three card slots and a side pocket to store loose cash.
The case has a solid build with lovely stitching all around and is soft to touch.
The packaging includes an elegant box and a pouch, which is a perfect gift for yourself or a friend.
They use ancient techniques that are blended with state of the art technologies which ensures the durability of the product.
Types of Shieldon cases:
There are a few different types of Shieldon cases.
Classic case – it has a magnetic flap with no clamps or clasps.
Single Snap – it has a magnetic clasp to keep its flap closed
Slim Snap – has a slightly thinner profile and closes with a magnetic latch
Dual Snap – it has a magnetic latch split into two parts which need to meet when the flap closes, instead of having just one clasp
All the cases come in classic colours of black or Brown. Apart from these classic colours, Shieldon now comes in dark blue, purple, red and wine red colours as well.
Apart from its elegant design, the flip cover and magnetic closure gives the smartphone full protection. The inner shockproof cushions enclose every corner providing protection against drops and bumps.
The company offers a lifetime warranty with all Shieldon cases along with a lifetime replacement and a warranty of any product issues apart from the normal wear and tear.
Where can you buy Shieldon cases?
Shieldon has set up Amazon stores for the United States, Canada, France, United Kingdom, Germany, and Japan. The cases can be purchased from their website or bought from Amazon stores online.