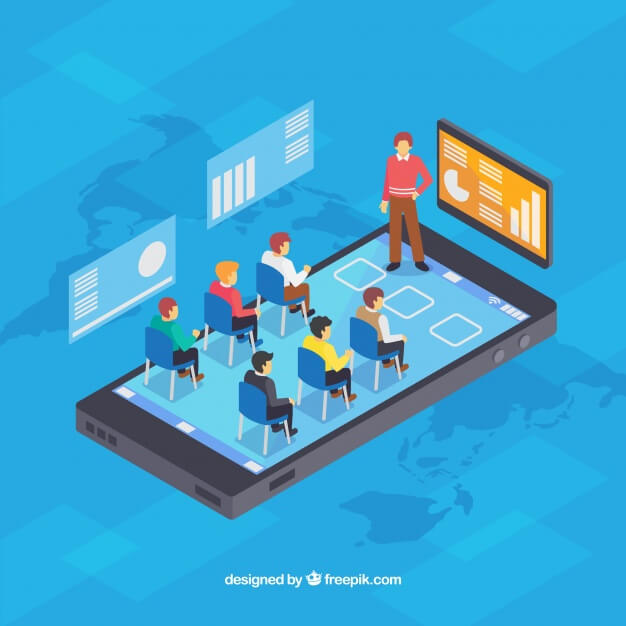 In the age of Business 4.0, everything gets 'E-fied' i.e, digital, be it your tax filing, payments or shopping! Same happened to the field of learning, which is emerging as 'E-learning' now.
This concept is proving to be a boon in the days of Coronavirus for almost all kinds of students and learners. But the question we need to ask is, "Is E-Learning here to stay or will it gradually disappear once the pandemic is over?"
Here we have reasons why E-learning would not fade away in future:
Increased Internet Connectivity: As Internet coverage is increasing, E-learning is gaining more and more acceptance. In the developed nations, where the Internet is easily available, the usage of E-learning can be seen even more. According to a 2019 survey, around 63% of high school students in the United States use E-Learning tools at school to learn every day.
While E-Learning proves to be a substitute for schools during the pandemic, it is also playing a big part in ensuring that quality education reaches rural areas. It is proving to be a boon for the different competitive exam aspirants who reside in small cities and villages and would need to relocate to a bigger city to study in coaching. Now all they need is a phone or a laptop to get a hold of the benefits offered by coachings.
Scope and Reach: E-Learning benefits not only students, but skill learners as well. With tutorials and assistance over a simple mobile device, farmers can get real-time information and skills to improve the yield. People who wish to pursue their hobbies or passions, but cannot afford physical training due to lack of time or availability, can take help from E-Learning resources to learn new skills like photography or baking or coding.
With E-Learning, a teacher can reach more students than what he/she would reach while conducting a conventional class confined in brick and mortar. Many top universities across the world like Harward, Stanford, Massachsstes are offering online degrees and professional certificate courses online, thus breaking the geographical barriers in learning. Even a lecture can be shared live via web conferencing and can reach thousands of learners. The recorded video of such live lectures can later be shared and watched by learners. Thus, E-Learning amplifies the reach of a class manifold, extending it globally.
The scope is not limited students or aspirants, but also extends to industry professionals seeking to upskill and cross-skill. E-Learning offers bite-sized 'micro-learning' modules which are easy to learn and retain. As per industry reports, 94% of learners prefer micro-learning, mainly because they can juggle the demands of their jobs better.
Affordability: The E-Learning programs are generally less expensive than their conventional counterparts. An Indian startup company, Testbook.com offers online courses over their web and mobile platforms, costing as low as INR 299, which is about 1/100 of what proper centre based coaching for competitive exams would cost. On the other side, the cost of rent, printing notes, security, etc. are saved in the E-Learning mode. This is why a lot of coaching institutes are also moving towards this concept. At the student's end, expenses incurred on travelling, accommodation, etc. are saved as students from the smaller cities no longer need to relocate to another city for coaching or tution. It's all available on their phone and laptops.
Availability: E-Learning modules can be accessed 24×7 and multiple times, unlike one-time lectures given in a classroom. These are also available in the form of interactive mobile applications, making it possible to access learning resources even while travelling or during lunch breaks. E-books are available and can be carried easily in a phone or laptop, which cannot happen with notebooks or papers. Students have the flexibility to plan their pace and schedule as per their availability and learning capacity. They can give more time to the difficult concepts and fast forward the easy ones. There are dedicated platforms that offer support for clearing doubts and helping students in their homework and assignments as well.
Engagement: E-learning platforms designed for different sets of students are gamified to make the learning experience self-paced, fun and interactive. This ensures that the learner is engaged and pays full attention, thus making it even more effective and efficient. The interactive content ranges from audio-video modules, texts, references, and gamified assessments. Such platforms are often integrated with artificial intelligence (AI), which helps in adapting to the needs of the student as per their learning speed and capacity.
The assessments are generally self-paced for the students. Since the target is to test the skills of students and not just make him mug things up, the assessments are also designed in an adaptive manner, ensuring that the student learns steps by step with perfection.
The artificial intelligence feature for digital learning platforms also helps in motivating the learners to learn more by recommending more courses as per their captured interests. For example, if an employee is working on mastering a skill related to the job at hand, he/she gets a recommendation for another course that will help him be skilled enough to tackle bigger issues in the same domain.
With so much to offer, we strongly feel that E-Learning is here to stay, evolve and get better with time.