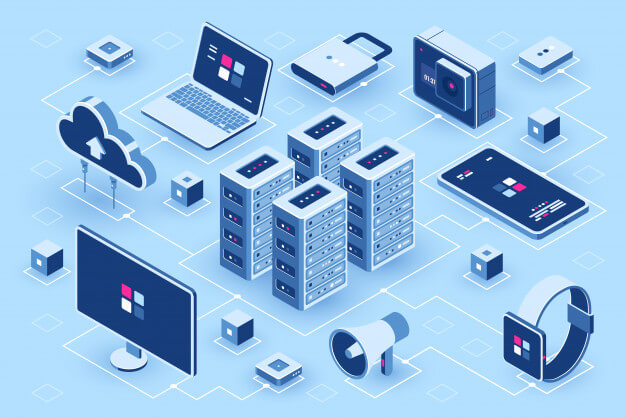 The virtual private server or VPS is the most famous hosting service that you can use for your website. This most secure and stable solution will provide you with most private resources on a server for multiple users at the same time. If you are a business person, organisation or enterprise solution based company and you have a website then VPS is the most preferable server choosen for your website. 
This hosting is considered to be the most secure and stable than the shared hosting and offers more than one hosting plan. 
Let's find out how VPS hosting works for your website?
You all know that if you want to store all your web host files and databases then you will need a server for this. This will help an online visitor to visit those files. The whole process happens when an online visitor wants to see your file present on the website then the browser sends the request to your server.
When the server receives that request from your browser then it will transfer that dedicated files so that the user can easily access it. This virtual private server will get stimulated with the physical server that allows it to get shared with many users at the real-time. 
To install the virtual server for your website, your hosting provider makes the use of virtualization technology and installs it on the top of the operating system of your server. As its name suggests, this virtual private server does the work of privacy and provide virtualization that allows users to install their choosable OS and software. 
Now, the question arises why do you go for VPS rather than dedicated hosting? If we talk about dedicated servers then they provide a vast level of security and protection to your website but that doesn't mean VPS don't provide security.
The virtual private server also provides a good level of security and allows you to install your security software with ease. This means you can get full control of your environment. While we talk about dedicated servers they contrast with the shared plan which means that you don't have full control of your environment. 
If we see the division of resources allocation, then VPS i.e. virtual private server allows the even division or distribution of resources while dedicated servers provide the allocations that will meet some of your expectations while creating your server.
But we can compare these two servers based on different factors. They are listed below, let's get started:
Price
If we compare VPS and dedicated server based on cost then no one can deny the fact that the price of VPS is far less than that of dedicated servers. The reason behind that is the web host which will allow multiple users at the same time to use the single server.
Dedicated servers will cost up to minimum $30 per month and the best-dedicated server can cost up to $100 per month with the vast variety of Features.
Managed and unmanaged servers
To understand the managed and unmanaged servers you need to know its basic definition. So, those who don't know what it means, then we will help you. The managed servers are those in which you don't need to set up the features or options of the server while in unmanaged servers the option of the server management software is not set up or configured.
To get the managed servers, you need to buy a good hosting plan for your website. At one end of the spectrum, the VPS plans that you buy are unmanaged while if we see the dedicated server's plans then they are fully managed which means you don't have to worry about setting up the server software.
So, it's based upon your choice whether you want a fully managed server i.e. everything in place (setup, Configured and maintained) or you want to go with a less expensive plan and set up your server by yourself.
Installed operating system
Now, you came to know which server offers the full control environment and shared hosting. Another similarity is between their operating systems. We know that the software is installed in Operating systems like Windows or Linux and only a few people knew about the installation of that software in Macintosh.
The fees for installing the software will depend on which operating systems you are using. If you are using Windows then installation of this server software will cost high rather than Linux or any other.
The reason behind this cost increase is that to install a window you will need a licence from Microsoft while Linux is a free open-source operating system.
Server security
Server security is another factor on which you can decide for which server you should go with. Security is an important factor that is very important for the website. If your server is secure then there is less chances for attackers to attack your website.
In case of Shared hosting, your recipient of DDos attack will most likely to affect your server security. So, if you are concerned towards the security then dedicated servers are most likely to give you better security than VPS. No one can deny the fact that they both come with dedicated IP addresses that will make your website less likely to be misidentified. You will also get a small series of marketing benefits like installed SSL, email marketing services and a secured payment gateway.
Technical server support
While you go for VPS servers or dedicated servers, there is no doubt that you will get a top-notch technical and customer care service. The higher-priced plan you buy, the less hard time you will get to find the host that is willing to give you answers to all your questions. And of course, if you pay for it, it's your right to get the best technical team besides you that will solve all your queries related to hosting.
Now, we have covered the advantages and comparison between the VPS server and dedicated server, you will surely get an idea which is best suitable for your website. And if you think that VPS hits your mind and want to build your own VPS then here you go.
We have bought you simple and easy steps that will definitely help you in building VPS server for your website. Just read them and follow each step to get your VPS ready.
Step 1- You need to login to your VPS via secure shell. You all know that you can access your website other than a browser. For example, you can make the use of FTP i.e. File transfer protocol that will surely help you with file editing, downloading or uploading to your server. To issue commands to your server you need to connect to a server through SSH. For this, you need to learn how to use SSH and get into your website server management process.
Step 2- After entering your SSH, you need to update your server security packages. When you log in your server, a message regarding update will be shown to you and you just need to click that message and update the server security packages. Once that update will be completed, you need to restart or reboot your server with the use of reboot command. Also, check for pending updates.
Step 3- Once your server gets started, you need to create a new user that has all privileges. Set up its password and after creating a new user you need to jump to the next step.
Step 4- The next step involves enabling the public authentication key which gives a more secure way to your server rather than passwords.
Step 5- This need to be considered as the last step in which you need to setup a firewall in your VPS. A firewall is very useful for security purpose and it will restrict the traffic to and from the server.
Conclusion
In this article, you will get to know the steps to create your own VPS server and how VPS servers work and many more about VPS. We have also mentioned the difference between dedicated servers and VPS so that it becomes easy for you to choose between the two of them for your website. With this informational guide, you can get an idea of configuring your website hosting and which hosting suits you the best.