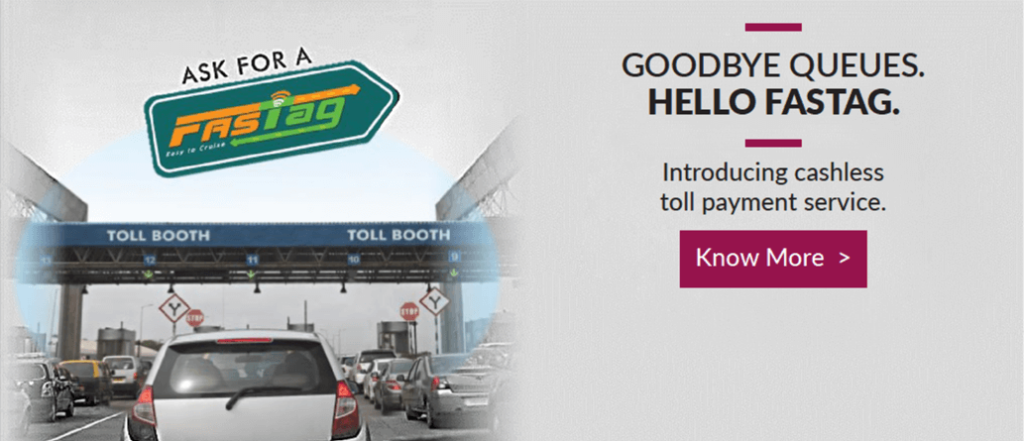 Most of the people usually travel from one city to another. They need to pay at toll plazas while entering in the new city. FASTag is one of the best solutions for the payment at toll plazas. With the use of the radio-frequency identification process, one can travel cashless when it comes to paying at toll plazas.
This will not only save your time but also you do not have to wait in long lines for payment. FASTags are easy to use, and you can easily pass through toll plazas without being stopped at physical cash transaction booths. These simple to use tags will enable automatic deduction of toll charges when you pass through tolls.
These charges will be deducted from your bank account. But do you know you can also take FASTags from Axis bank with its over 40000+ branches? In this article, we are going to discuss the process of applying and activate Axis Bank FASTag, and what are the benefits of using it? So, let us get started with the Axis bank FASTag information guide.
Axis Bank FASTag online application process
Driving a car is a liberating experience for most people. Several factors hinder this experience like roadblocks, traffic, and toll plazas. This will lead to an increase in your time burning your fuel. But if you want to save your time and fuel, you need to make the use of Axis bank FASTag.
It's easy to use technology that enables you to pay at tolls without getting in a big lane. Your car will be passing through a toll plaza, and cashless payment will get initiated from your account. You can place the FASTag on your four-wheeler windscreen, and it will be scanned when you pass the toll booth. You can easily apply online for Axis bank FASTag by following these steps:
Enter the URL in your browser www.axisbank.com and browse it.
Click on the Explore products option in the main menu.
After that, you will find the FASTag option, and you need to select that.
Click on the button "Free FASTag now."
Fill your details like demographic location, vehicle information, and much more, and make payment.
You will receive a FASTag via your doorstep.
So, now you get an idea of how easy it is to apply for Axis bank FASTag online. You can also apply for FASTag offline with the help of the application. For this, you need to visit your nearest Axis bank branch. You simply ask them for FASTag or purchase them from toll booths. Make sure to carry important documents like a vehicle registration certificate and other KYC documents with you. This will be needed while purchasing the Axis bank FASTag offline.
This is the process of getting an Axis bank FASTag with ease. Let us discuss the fees and charges applicable for FASTag.
Fees and Charges applicable for Axis bank FASTag
When you go for purchasing Axis bank FASTag, then the agent will ask you for insurance fees and a one-time security deposit. The one-time security deposit is of Rs. 200, and it will be refundable at a time of closure.
In case your Axis FASTag gets damaged or lost due to any reason, then re-insurance charge of Rs.100 will be applicable on your second tag. As per vehicle class, it is important for you to maintain a minimum threshold.
If you want to get a receipt of the payment, then you need to register online, an OTP will be generated for your user ID. You can recharge the wallet in multiple ways.
Benefits of using Axis bank FASTag
There are several benefits of using Axis FASTag. They are listed below:
Toll payments of national highways can be made through FASTag in an easy way.
FASTags will help you to save your fuel and time as you do not tend to lineup to reach toll booths.
With the use of FASTag, you do not get any worry about handling the cash. All you just do is to paste it on the windscreen of your vehicle and enjoy your ride.
You can easily track your expenses on toll plaza with the help of FASTag.
You can do online recharge of the FASTag with a hassle-free process.
These are some benefits of using FASTag while passing the toll plaza. The charges of a vehicle passing through will depend on the size and type of vehicle. These FASTags will make you feel relax as you do not worry about stopping in long lines.
FAQ related to Axis bank FASTags
What to do if ETC equipment is not working?
If you are going to cross the toll plaza, ETC equipment is not working, and then you need to pay cash and report this issue with customer care. They will handle this issue as soon as they can.

Is there any minimum recharge amount for recharge of my FASTag?
Yes, the minimum amount you need to pay is Rs.100.

What to do in case of my vehicle having FASTag gets stolen?

What will be the validity of the FASTag that I brought?
It will be valid until five years from the date you registered. It would help if you recharged it according to your requirements.
Conclusion
In this article, we have discussed a piece of brief information about Axis FASTags. FASTags are more reliable than paying cash as you do not need to carry your wallet or stand in a queue. If you want to take FASTags of Axis bank, then you can easily apply for them online as well as offline.
We have also added the fee charges that would apply when you purchase the FASTags. You need to recharge your FASTags, and the fee will depend on the size and type of vehicle. We have listed some common questions people ask while using FASTags. Now, go cashless with it and start enjoying your ride.