India is blessed with stunning beauty and a rich culture that give globetrotters massive travel goals. With its diverse and enchanting natural elements like the mighty mountains, the thriving valleys, the long meandering rivers, the lively sea coasts and more, travelling in India is truly an incredible experience.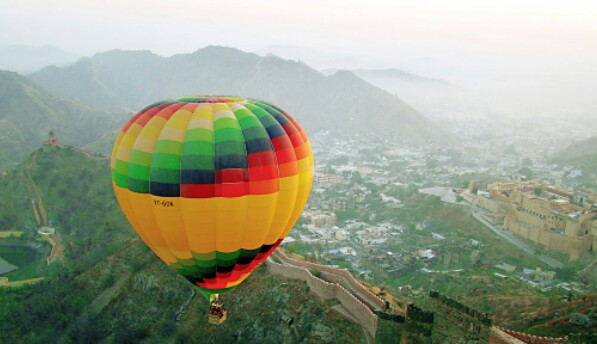 Here's are some of the best ways to explore India in all its glory:
Trekking Scene in the Valley of Flowers:

Get mesmerized with nature's splendour while trekking in Uttarakhand's Valley of Flowers that is located in the Nanda Devi Biosphere. The magic begins in the journey itself with calm lakes, quiet villages, gentle streams and dense forests on the way. Imagine exploring the most magnificent wildflower cover you could ever think of. Get to appreciate the beauty of 300 species of wildflowers that also include 45 species of medicinal plants. And, consider yourself lucky if you get to spot the rarely seen tahr or Himalayan black bear.

Bird-Eye View in a Hot Air Balloon

: If you want to reach for the sky, why not do that in India? Hop in on a hot air balloon and treat your eyes with the majestic view of Jaipur's Amer Fort, the splendid Pushkar camel fair and the wild jungles of Ranthambore. Also available in Kamshet and NCR, this activity will let you soar above the everyday experiences and feel something completely new.

Visit Udaipur, the City of Lakes

: From world-renowned luxurious experiences to the hustle-bustle of the small city life, Udaipur will move you with its exotic charm. You can enjoy your stay to the maximum with an evening boat-ride in the Lake Pichhola, fine-dining experience at a luxury hotel, etc. If luxury is not what you are looking for, you can still have a good time by exploring the natural landscape on foot, gorge on the local delicacies and shop your heart out in the city markets.

White-Water Rapid Glory in Arunachal Pradesh

: An indispensable part of the 'Seven Sisters', Arunachal Pradesh is an amazing place to visit between October and March. Ride the white-water rapids in the brimming rivers to easily get from one place to another. Don't forget to get a glimpse of the golden mahseer, a great game fish when making your way through Upper Siang, between Yingkiong and Boleng.

Make Your Way in a Luxury Train

: Gift yourself a royal experience in the land of royals. A little expensive but luxury train travel is definitely a great way to explore India. Though there are options on the luxury train travel,

Maharajas Express

offers you a cherishable eight-day heritage tour of India. Traverse your way through North India in this train and get to visit the Taj Mahal and grand palaces in Rajasthan.

Magic Under the Sea in the Andamans

: Dive into the crystal blue waters found around the remote volcanic island of Narcondam and watch exotic undersea creatures. Be alert and you never know you could spot a Narcondam Hornbill up close and shoals of Parrotfish Darting under the refreshing sea water.

Make Time for a Comfortable Farm Stay

: If you like it simple and want to get back to the roots, organic farm stays are your best option. Listen to the sound of birds chirping, know how your food grows and eat it fresh, smell the fragrance of the rich soils and view India in its most rustic form. Break away from the shackles of the urban life for a while and keep yourself grounded in the simplicity of life on a farm.
If you are thinking of exploring India during your next vacation, make sure you get a peak of various forms of culture and the vivid natural beauty. Take your time and travel your heart out in this beautiful land.