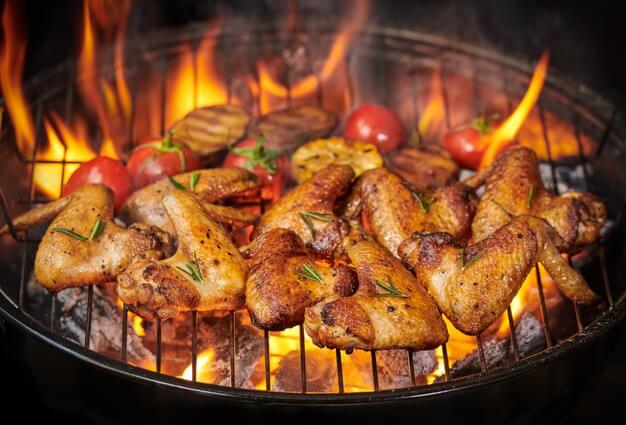 When you're hankering for chicken wing delivery, what flavor do you order? If you don't choose BBQ, you're missing out. BBQ chicken wings are the go-to for after-game snacks, sports-viewing parties and family get-togethers. If you've ever tried them, you'll know why — and if you haven't tried them, what are you waiting for?
What Makes a Great BBQ Chicken Wing?
When you bite into a BBQ chicken wing, what is it that makes your taste buds do a happy dance? A lot of work goes into getting that perfect bite. First off, the chicken needs to be of the highest quality, and second, the spices need to be carefully balanced. When everything comes together just right, you get a top-notch dish.
Moisture
A great chicken wing is moist from the first bite to the last. While the sauce is the signature of BBQ wings, it shouldn't be used to disguise badly-cooked chicken. Instead, juicy chicken is the foundation of a tasty wing, with sauce elevating the experience.
Tanginess
There are several kinds of BBQ sauce:
What do they all have in common? That craving-fulfilling tanginess. A good BBQ sauce should leave your lips a little tingly and make it impossible to resist licking your fingers.
Perfect Sides To Have With Your BBQ Chicken Wings
Of course, you can't order BBQ wing delivery without getting a few sides. Over the years, dozens of dishes have served as sidekicks to BBQ wings, but a handful rises above the rest. If you want a truly phenomenal meal, here are the sides to order.
Potato Salad
Chilled, rich and filling, potato salad is one of the classic side dishes for BBQ wings. It makes a great addition to any outdoor barbeque or picnic and is easy to make in large quantities. It's also highly customizable, with a wide range of ingredients, spice and condiments to add.
Onion Rings
Crispy and juicy onion rings are a great snack on their own. Paired with BBQ wings, they're a match made in heaven. If you want to take things to the next level, you can dip your onion rings in BBQ sauce.
Mac and Cheese
Nothing goes with BBQ quite like this cheesy goodness. Whether you love the box mac and cheese from your childhood or like to elevate your recipe with fancy ingredients, you can't go wrong with this side dish.
Why BBQ Is the Best Flavor of Chicken Wing
There are dozens of chicken wing flavors, and the list gets longer every day. Why pick BBQ over everything else?
Classic
Every restaurant that serves wings has a BBQ option, and that's because it's a classic. You know exactly what you're getting when you eat BBQ chicken wings: deliciousness. When you're not in the mood for adventurous food choices, an order of BBQ wings is the perfect option.
Taste
The bottom line is: BBQ chicken wings taste good. The sauce is the perfect pairing for wings and should leave you disappointed when your plate is empty.
The next time you're craving something delicious, you should search for "chicken wings near me." BBQ wings are always sure to satisfy, so why order anything else?