MiniTool ShadowMaker is a compact data protection, hazard recovery, Backup Software and Professional Backup solution for Windows computer and Windows Server users to keep the data always Protected. MiniTool ShadowMaker can back up selected partitions, important files and folders, Windows Operating System and also the entire hard disk.
It can customize backup schedule, restore data once a hazard occurs like hard drive failure, system crash or any other way, manage disk space taken up by backup files, clone hard drive, create WinPE bootable media and so on.
When a computer fails to boot MiniTool ShadowMaker allows you to create a bootable media to restore the system to a normal state. The hard drive maintaining is much easier with the help of MiniTool PXE Boot and MiniTool Media Builder Tool.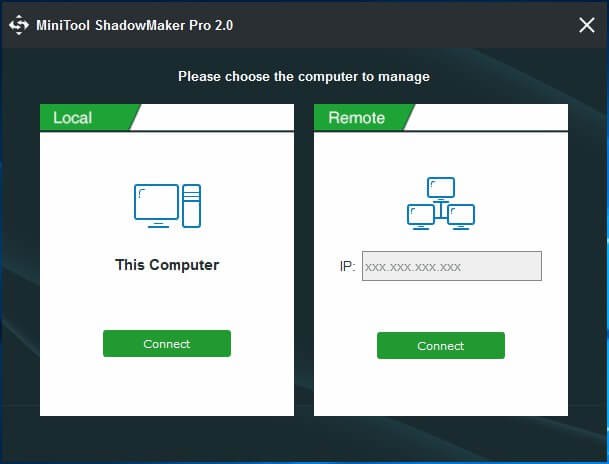 Highlighted Features of MiniTool ShadowMaker
Password Protection and AES Encryption
WinPE Bootable media builder and PXE server
Differential and Incremental Images
Bare Metal Recovery and Universal Restore
Schedule and Event Trigger Backup
System, File and Disk Backup
Safe System and Disk Restore
Clone hard drive for disk backup or for the hard drive upgrade.
Manage hard disk space taken up by full/differential/incremental backup files.
The requirement of MiniTool ShadowMaker
System Requirements are 1GB RAM for 32-bit OS, 2GB RAM for 64-bit OS, 1.5 GB free disk space and 1 GHz Pentium Processor.
Supported File Systems are FAT16, FAT32, exFAT, NTFS, and Ext2/3/4.
Supported Operating Systems are Windows 10, Windows 8, Windows 7, Windows Vista and Windows XP with all edition.
Supported Storage Media are Home File Server, Network Attached Storage (NAS), Hardware RAID, USB External Disks, HDD, and SSD.
MiniTool ShadowMaker available on Free and professional packages. It's a 70MB download and installs with a simple way process that is running in the background.
MiniTool ShadowMaker is a Windows-only program so creates bootable media in the Windows Pre-install Environment format. MiniTool ShadowMaker free Features include backs up full partitions and also clone entire drives.
It can do the incremental backup, which backs up any changes from your last backup and not the differential backup that backs up all that's changed the last full backup and ignore the partial backups which happened in the middle.
You can do unlimited backups with free MiniTool ShadowMaker. Apart from selecting the partitions to back up, you can manage the compression level, defining the email alerts and notifications, can choose backup selection category like only used portion or all and password-protect the images.
The boot media with full restore functionality also available. You can even restore certain files which you need by using MiniTool ShadowMaker, will mount the image as a virtual hard drive so you can browse it and copy stuff off.
Some of the features are not available in MiniTool ShadowMaker Free, you can avail that only in pro version that is listed here.
Managing Remote computer
Back up on the event
Change backup Scheme
SSL encryption support
Changing the data encryption method
Backup using command line
Support network booting
Support universal restore
Back up & View logs in WinPE
Manage backup in WinPE
Support command shell in WinPE
MiniTool ShadowMaker Pro version feature allows the average user to create whole and differential backups. The differential backup includes all the data changes from the last full backup, whereas incremental backups include only the data changed from the last backup. Incremental backups are faster and differential backups restore faster. Next important feature is that universal restore, which allows you can restore to hardware that's not interchangeable or very similar to the devices from which you are backed up. For example, if your old computer died and you want to move the files from old computer to the new one, in this case, MiniTool ShadowMaker Pro version is important.
MiniTool ShadowMaker Download & Installation
You can download the MiniTool ShadowMaker using the below link,
https://www.partitionwizard.com/download/mtsbsetup_free.exe
For installation of MiniTool ShadowMaker follow the below steps,
Run the setup program > Accept License Agreement > Select destination location > Follow the installation guide > Finish
To uninstall MiniTool ShadowMaker follow any one of the below steps,
Start Menu > All Programs > MiniTool ShadowMaker > Uninstall
Windows Control Panel > Uninstall a program > MiniTool ShadowMaker > Uninstall
Windows Control Panel > Programs & Features > MiniTool ShadowMaker > Uninstall
You may also interested in
https://www.minitool.com/backup-tips/this-copy-of-windows-is-not-genuine.html