Coziness is something that is characterized by vitality and warmth. But just putting up a candle seems too little and "too much of a good thing".
Especially in the winter time, we long for comfort and warmth in our home. In order to create perceived comfort, architecture and furniture alone, are not enough, because coziness is created through living and style. Here are few quick tips to make your home look cozier.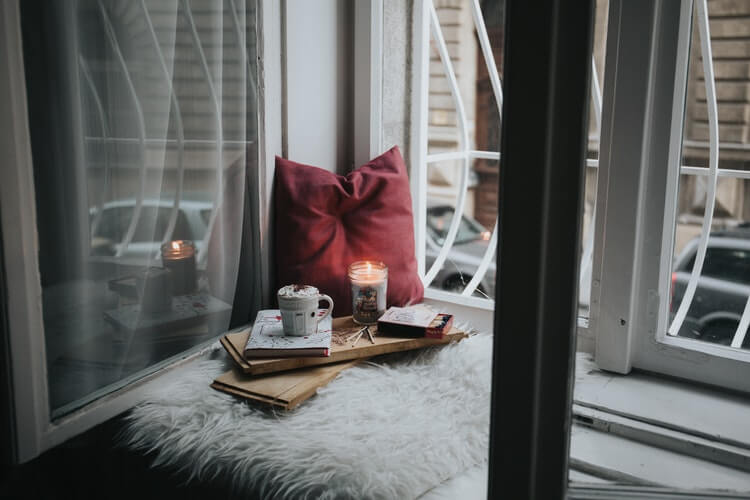 1. Use natural materials
In modern interiors, cool materials often dominate the room: white surfaces, natural stone and glass. Coziness, on the other hand, can be achieved by warm materials such as wood or soft textiles. Therefore, a wooden rocking chair as well as a natural wood side table set a cozy accent. Even a faux fur on the bed or on a chair immediately brings comfort in the room.
2. Atmospheric light
A well-lit room is sometimes very important, especially when you are working. But when it comes to coziness, small and soft light sources are the better choice. A dimmable floor lamp next to the sofa, smaller table lamps in the window, friendship lamps on the sideboard etc – they all act as an accent, but in combination they light up the entire room in a gentle way. Very important is the light color, which should be warm.
3. A well connected arrangement
Enjoy a cozy get-together, a hot tea or coffee and drifting through conversations – this requires the right seating arrangement. In most cases there are one or two armchairs next to a sofa, which should be placed in the direction of the sofa for this purpose, so that everyone can face each other in the eyes.
4. Harmonious color choice
Colors have a deep influence on our well-being and can even raise the perceived room temperature. Above all, the color harmony is important, which means that colors from a family fit together well. There are five basic colors: yellow, red and blue as bright colors, white and black as achromatic colors. Different mixes of a basic color always look good.
5. Curtains, rugs and textiles
Home textiles are particularly important for the comfort in a room. Curtains, rugs, blankets, cushions – they affect not only the eye, but also the ear, because they swallow sound. A large carpet can become the living center of the room. He flatters his feet, brings warmth to the room and also serves as a fluffy underground to play comfortably with the children.
6. Well-done space dividers
A space dividing piece of furniture in different styles can create liveliness. This can be a plush chair, a wooden sideboard, a shelf or anything else.
7. Group your decoration pieces
The most flexible way to create coziness is to play with accessories. Selected decorative elements look particularly good when arranged as a group, such as different bowls and ceramic vases, which harmonize in color, and are complemented with twigs or pastries. A special impression is also made by candles in the ensemble, which together create an incomparable radiance.
8. Targeted disorder
Coziness needs liveliness – when a room looks "inhabited", it immediately creates a relaxed atmosphere. Therefore, even in clearly furnished rooms, various accessories may exude a hint of "disorder". This is how several blankets on the sofa, magazines on the side table or unconventionally arranged pictures add a classic look.
9. Cozy zones
Especially with open construction methods, which combine several functions such as kitchen, dining room and living room in large rooms, it is important to create an atmosphere. Again, it can be really comfortable when you define areas and create nooks and crannies. A heavy dining table, for example, can be framed by a low board, or a large armchair borders the corner of the sofa with its back to the open space.
10. Stage favorite or collector's items
The home is made homely by personal things. This can be larger pieces of furniture with a family memory value as well as plants or passionately picked collectibles. Here is the magic word: The dresser is placed individually in front of a colored wall, the plant in a concrete container perched on a heavy wooden block and the collection egg is issued as a local temporary exhibition in a display case.
Good to know
A scent in the room creates atmosphere – right now at Christmas time, the scents of orange, bergamot, cedar and spruce are preferred.
Sometimes it is actually just a small thing that gives the final cozy touch – for example, a blanket with matching pillow.
A nice pot of hot tea and a few cookies makes the cold season comfortable.
Plush skins take the rigor of clearly designed chairs.
Wood fits well as a warm material in cool environments and acts as a cozy accent.