Joyoshare is one of the leading multimedia software developers in the world which aims mainly in providing high-quality products and services to the customers worldwide in making audio and videos solutions.
What is HEIC?
HEIC also referred as HEIF (High-Efficiency Image Format) which can be used in Apple products with new iOS versions of operating system and Mac OS. It is used in changing the image format to JPG occupying low space and high quality. It can support multiple images or animation at the same time and produce the JPG results. But it cannot be used in older versions of iOS, Windows, Mac and other operating systems. Of course, it is important to convert a HEIC image to JPG formats to open the images in non iOS 11 operating systems. But anyways, no worry, Joyoshare HEIC Converter will deliver the best solution.
Easily convert any Apple's iOS 11 photos from HEIC to JPG, PNG, GIF and more.
Joyoshare HEIC Converter not only helps to convert the image from HEIC to JPG but also it supports to convert it into PNG, BMP, GIF, TIFF, and WEBP. It helps to convert without affecting the high quality and can convert multiple files at a time. With that, you can change both the resolution and the quality of an image.
Steps to convert HEIC to JPG with Joyoshare HEIC Converter
Sync iOS 11 HEIC images to your PC or computer

Add HEIC files to Joyoshare HEIC Converter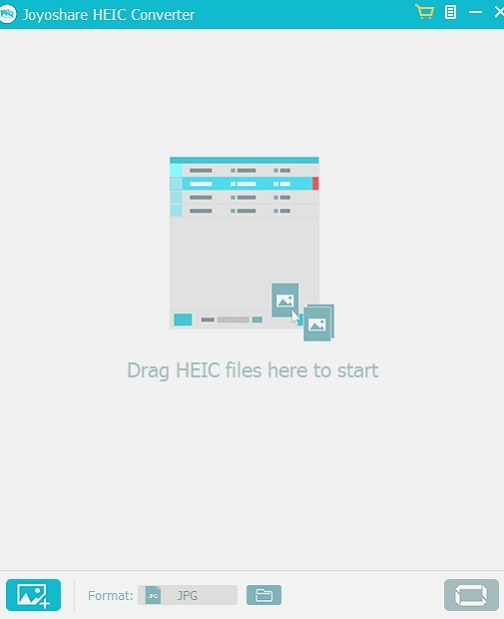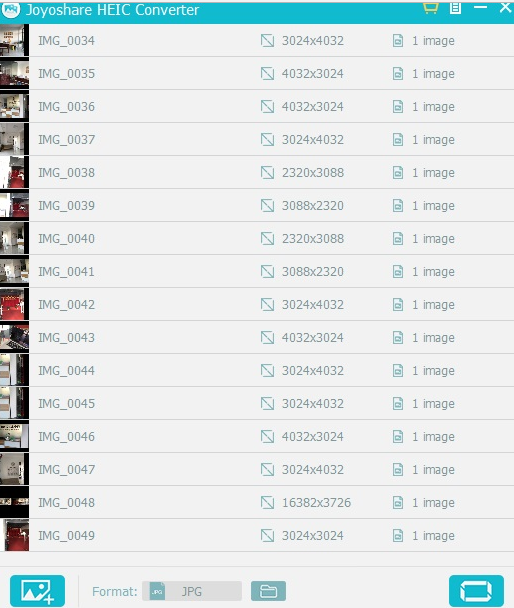 Change images resolution and quality of output result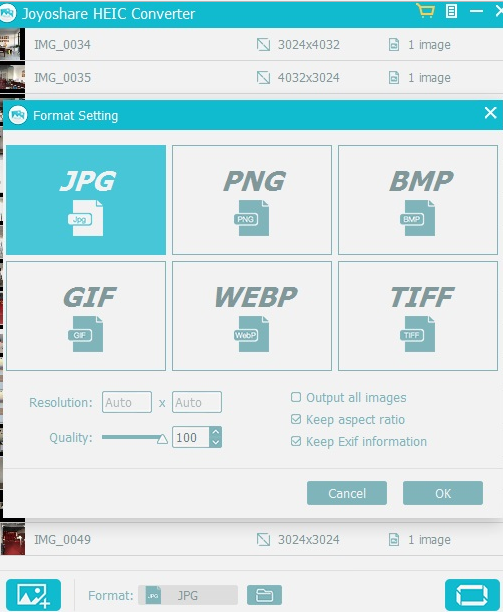 Now you can start to convert HEIC to JPG or any other formats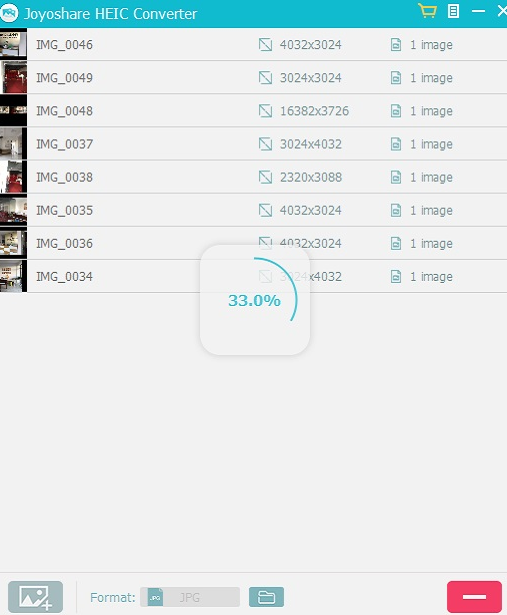 A perfect HEIC to JPEG converter without damaging original images
With the help of HEIC format, the user can now store more images in high quality in their iOS devices. But it is not yet supported by most image editors; this can't be used in older versions of iOS and Windows versions to view or to share the HEIC images. To overcome all these issues, Joyoshare JPEG converter for windows comes with all the supporting features including all issues that are related to HEIC images. With the help of this software, the user can convert perfect HEIC to JPEG without damaging the high quality of original images.
Convert HEIC to JPG, PNG, GIF, TIFF, BMP, etc. in one click
Joyoshare HEIC converter helps convert not only to the JPEG formats but also including other image formats like PNG, BMP, GIF or animation, etc. with the help of this, we can easily detect all HEIC image in our devices and can convert it into other image formats. Thus Joyoshare HEIC converter to JPG or other formats can be done just in one click providing the efficient result in a faster manner.
Instantly convert HEIC images individually or in Bulk
Joyoshare HEIC converter even has the features of converting the bulk of HEIC files to the other image formats. In case if the users have a large number of HEIC files in their devices, they need not convert it one by one instead they can convert the bulk of images to jpg which allows them to convert each and every file to other formats with high quality
Adjust photo quality in your way
Joyoshare HEIC to jpg converter produces output image not only as per the resolution in the original image but also it produces the output with the user customized quality. Both resolution and the quality of the original image can be changed by the user according to their demands. With Joyoshare HEIC converter online, HEIC images in iDevices can now be shared and viewed on the other devices.
Joyoshare Video Converter for Windows is the 2 in 1 video converter that helps to convert the video or to edit the video more easily with the attractive user-friendly interface.  With this app, a user can convert and produce nearly 15 formats with all the popular videos available. This app will be the best app to meet all the requirements in the video converting industry.
Joyoshare Media Cutter is a user friendly tool that can be used to trim, to cut or to split both the audio and video files such as MP4, MP3, AVI, etc. it helps not only to edict or to change audio or video file but it also helps to extract the audio from the video files. This could be the best media cutter ever to meet your destinations.
To get more info about Joyoshare products and services to refer https://www.joyoshare.com/
To get more info about Joyoshare HEIC converter for windows to refer https://www.joyoshare.com/heic-converter-for-win/