Depending on the size of your driveway, the materials you use, and where you live, having your driveway repaved can easily cost you between $3,000-$10,000 – so it's a big job! And that means you shouldn't just hire the first paving company you find on Google, or in the Yellow Pages.
Want to know how you can find the best driveway paving company for the job? Here are some of our best tips!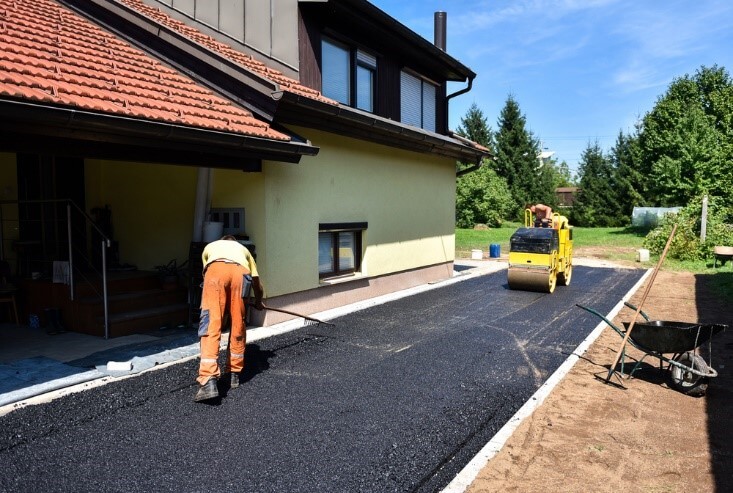 1. Start By Doing Your Research Online And In-Person
First, leverage your social network. Ask friends, colleagues, and acquaintances for recommendations via email, in-person, or on Facebook! Chances are, you'll be pointed in the direction of a few high-quality paving companies.
If that doesn't work out, it's time to break out the laptop! Do a bit of Googling, and find some local companies who look reputable, and have good customer reviews, and you're sure to find some likely candidates.
2. Ask For Pictures Of Their Work And Interviews With Past Clients
Most paving companies have pictures or a portfolio of their past work online, but if you don't see any photos, feel free to get in touch with them to ask them to send you some before/after pictures – so that you can check their work, and make sure they deliver great results.
They should also be willing to let you set up an interview with their past clients. This is probably the best way to get a real understanding of what the process was like, and what you can expect from the paving company.
3. Ask About Their Experience And Qualifications
Paving a driveway, or any surface, is not easy. Working with asphalt takes years of experience and training, so we recommend that you ask some questions about the experience that each worker has, how long the company has been in business, and get other such information about their qualifications.
4. Check (And Double-Check) For Insurance
You need to be sure that, should something go wrong on your property during the job, your driveway paving company has insurance to cover it. So make sure that you have proof that your paving company is insured – and that all of their workers are legally covered by liability insurance.
That last point is very important. Unfortunately, some cut-rate companies use day laborers or illegal workers to help them with their projects, as paving a driveway usually takes a crew of 6-8 people. These people may not be covered under their insurance policy – even if they have one. So make sure that everyone working on your job is a legal, insured employee.
5. Make Sure They Use High-Grade Asphalt And The Right Equipment (It's Worth The Investment)
If you hire the cheapest driveway paving contractor you can find, they'll likely use old equipment, low-grade asphalt, and inexperienced workers for your job. You get what you pay for – and you may find that your new driveway looks ugly, cracks prematurely, and wears down quickly.
So we recommend that you avoid hiring the lowest-cost contractors you can find. In the long run, investing in a driveway made of dense, high-grade asphalt will pay off. While a cheap asphalt driveway may start falling apart within a decade, a high-grade, professionally-laid driveway with proper drainage can easily last 20+ years.
Sure, you'll pay a little bit more up-front. But, if you plan on staying in your house for a long time, hiring a qualified, experienced, and certified driveway paving company will be worth every penny.
Follow These Tips – And Pick The Right Driveway Paving Company!
As you can see, hiring a driveway paving company is not something you should take lightly. But if you take the time to follows these tips, vet your potential contractors thoroughly, and take a look at their past work, you're sure to make the right hiring decision.