I know well how hard it is to make money online when you are a beginner.
It really sucks.
The internet is full of people with ideas about how to make money online without explaining how they work properly. A lot of random ideas scattered throughout an article, ideas that sometimes the author has not even tested them and still claims to be "The 120 Best Ideas to blablabla."
It's frustrating, I know.
But today I will show you a way to make money online that is extremely simple and fast that I discovered a few months ago and would like to have discovered when I started in the world of online marketing, so you will be luckier than I am.
The business model is called dropshipping. You will not have to worry about employees, stock inventory, etc. If you still do not know what DropShipping is, read this guide before (link)
Already know how dropshipping works? So let's start.
Here's our plan:
 Choose a proved hot product that will bring sales easily
 Create your virtual store in 5 minutes
 Install a dropshipping tool in your store so that it manages your sales with dropshipping
 Create an Instagram business account for your store
 Install an automation tool to post and interact with qualified users automatically 24/7
It's quite straightforward, don't you think?
#1 – Choose a hot product that will bring sales easily
The first step will be to choose a hot product. Something that people are buying now. Where can you find hot products? I'll give you 3 options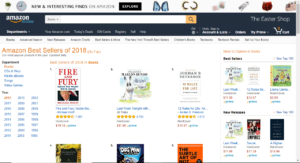 In this page, you will find an extensive list of categories of products, each with a ranking of the best selling items. Choose something priced between $ 20 and $ 200. This range of prices is easier to get sales.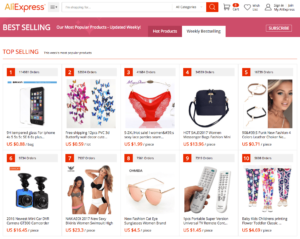 Here you will have a list of the best selling products of the whole website on a weekly basis, not just a specific category. This can help you to discover products that are selling well within niches that you never heard about.
LightInTheBox New Products Best Sellers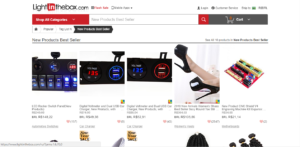 Like the AliExpress page, here you will find a lot of good trending products to choose without being in a specific category. Remember, you have to choose something between $20 and $200 if you want that our plan works.
#2 – Create your virtual store in 5 minutes using Shopify
Now is time to work, to create our own store easily we will use Shopify. They have a 14 day free trial but if you do everything right you will start getting money before the trial is over, you can start your free trial here.
On the first page of shopify you will find a form asking you to write your email to begin, after that page you will get here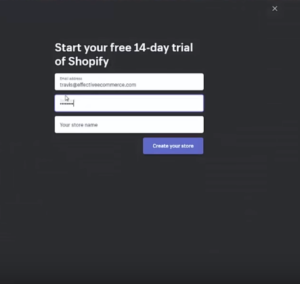 Fill the form and click on "Create your store"
Put some info about your store there and click in "Next"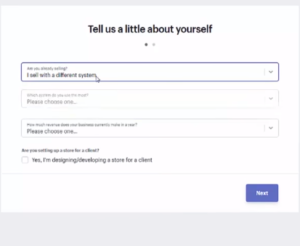 This is a important part, type your address properly to get your money when your first sales begins. Put all the necessary info there.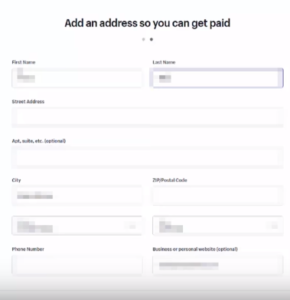 Done. Now you have your online store and this is your Dashboard. Here you will see your orders, create new products, check your analytics and personalize the appearance of your store.
The first thing you need now is a theme.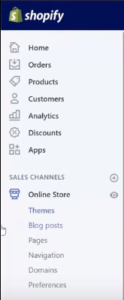 Go to the bar on the left side and click in "Online Store" then "Themes"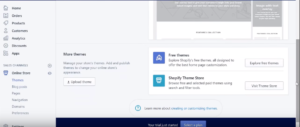 Scroll down the page and click on "Explore Free themes"
Now choose the best one for your specific product, you have to choose a theme for ecommerces, be careful to not choose something for blogs or magazines.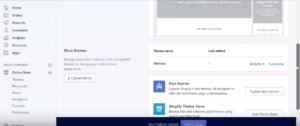 Now click in "Action" (it's above the "explore free themes button") then click to "Publish".
It's done. You created your store using shopify and now your site has some design.
#3 – Install a dropshipping tool that manages your sales between the supplier and the customer
Go to the Oberlo website, they have a free trial plan like Shopify has.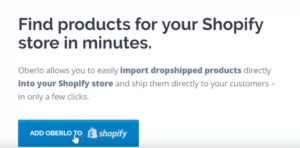 Now click on the blue button to add Oberlo to your Shopify account.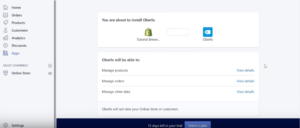 Scroll down the page and click in "Install App"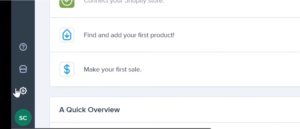 Now go to the left corner on the bottom and click on this icon.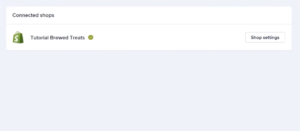 You will get here, click on "shop settings"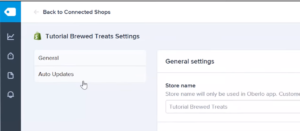 Go to the "Auto Updates" option and click it, We will have to change some settings there.
Just copy the way I filled out the options below: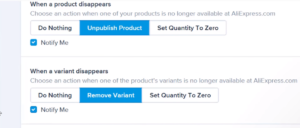 Done? Now go to the right top corner and click on the green buttom to save our settings.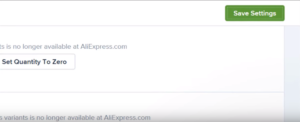 Good job.
Before we start to change some supplier settings, you will need to install a chrome extension of the supplier that you choose. We will use AliExpress on this guide, so click here to install.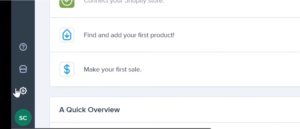 Now is time to change some supplier settings. Go again to the left bottom corner and click on the gear icon.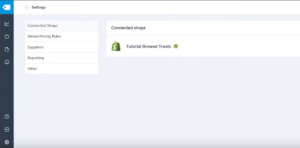 You will get here again, now click on "Suppliers" button.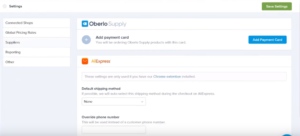 You will get to this page, Oberlo is a tool that acts as a link between the supplier and the customer, so when someone buys something on your site, Oberlo does the work for you to buy the product on the supplier's website and send it to the customer, so he needs your credit card or debit to be able to do it.
Now click on "Add Payment Card"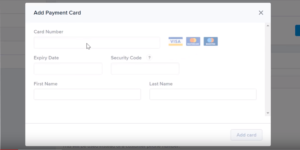 Fill the form properly and click on "Add card"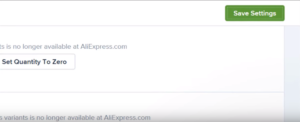 After that, click to "Save Settings"
Done.
Your Oberlo app is installed.
But we need a final feature to help us to bring the products from the supplier page to our store. We need to install the chrome extension "Oberlo – Aliexpress.com Product Importer".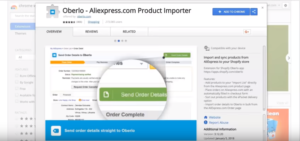 After installed. Go to Aliexpress and find the products that you will use in your store. To add something, just click on the blue icon that appears when hovering the product image.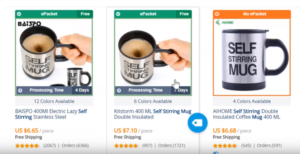 You will see a message on the top right corner.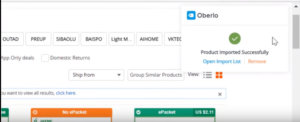 It's done. Your product was imported to your store successfully.
#4 – Creating an Instagram business account for your store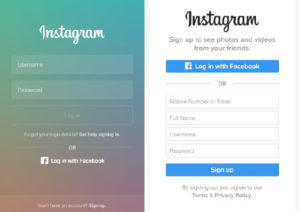 This is quite simple and I will not lose our main focus just showing how to set up a social media account.
Create the profile of your store filling all the necessary info. When done, jump to the next section.
#5 – Install an automation tool to post and interact with qualified users automatically 24/7
Now is the funny part. I will explain to you how the strategy will work and what you will have to do to be successful.
You will use Overposter, it's a tool that will automate your posts and engagement with people who have the same interests that your company has. People that already like your stuff. You just have had to create the posts and stories and let Overposter do the job for you. Simple as that.
Here's what you can do:
Set up scheduled posts for the whole month.
Set promotional auto-DMs to new followers.
Auto-like videos & photos from the similar audience to your store.
Auto-comment on videos & photos from a similar audience to your store.
Auto-follow similar audience to your store.
Auto-unfollows unfollowers or followers that were followed by the bot.
Let's start.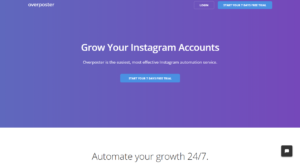 This is the first page of Overposter, click on the blue button to sign up.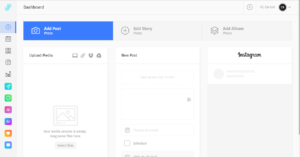 Now you are a member and this is your dashboard, in this page, you can add a post, stories or a collection without necessarily be logged on Instagram. But first, we have to log in using the app

Click on this icon and you will see an Instagram form. Just log in your account.

Here you can schedule your posts for a whole month, just hover your mouse above the day you desire to post something and you will see "Add a post".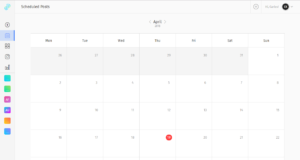 In this bar you will setup the Auto-follower tool, the auto-like, auto direct-message for people who are following you, and auto unfollow for people who unfollowed your account. It's quite simple. You just have to type a keyword or hashtag related to your product and the software will find people who already like what you are offering. Simple as that.
5 Ideas to Keep in Mind When Creating Your Posts:
 Do not create a profile that only sells things, try to offer some type of content related to your product that attracts visitors, people who enjoy what you post. Try offering your product to people who are already interacting with your profile.
Create lightning deals and offer discount coupons using Instagram Stories
 Try posting something at least once a day, the post scheduling tool will help you with this.
 Keep in mind that the function of your account in Instagram is to attract people, and people are not attracted to advertise.
 Use the 80/20 rule, 80 percent of what you post has to be interesting content, and 20% offers and promotions.
Good luck with your new business and I hope everything works well for you.
Don't stop until you get it.
Your friend, Wilson.