Proper use and take care of no-stick frying pots and pans are important to use it for a long time. Also, you should follow manufacturer instruction. Try to avoid using metal utensils for non-stick cookware because the non-stick coating will break down while use a sharp-edged spoon. Once coat gets damage, the non-stick pan will not work correctly. Even, you will not get any benefits of the non-stick pan. In that case, there is no solution without replacing the damaged pan. You can learn how to take care of your non-stick cookware if you read review of gotham steel.
So, you need to use the utensils that cannot scratch on non-stick cookware sets such as frying pan or pots while cooking. For example, bamboo, wood, nylon or silicone utensils are scratch friendly. Also, they help to maximize the durability of your cookware.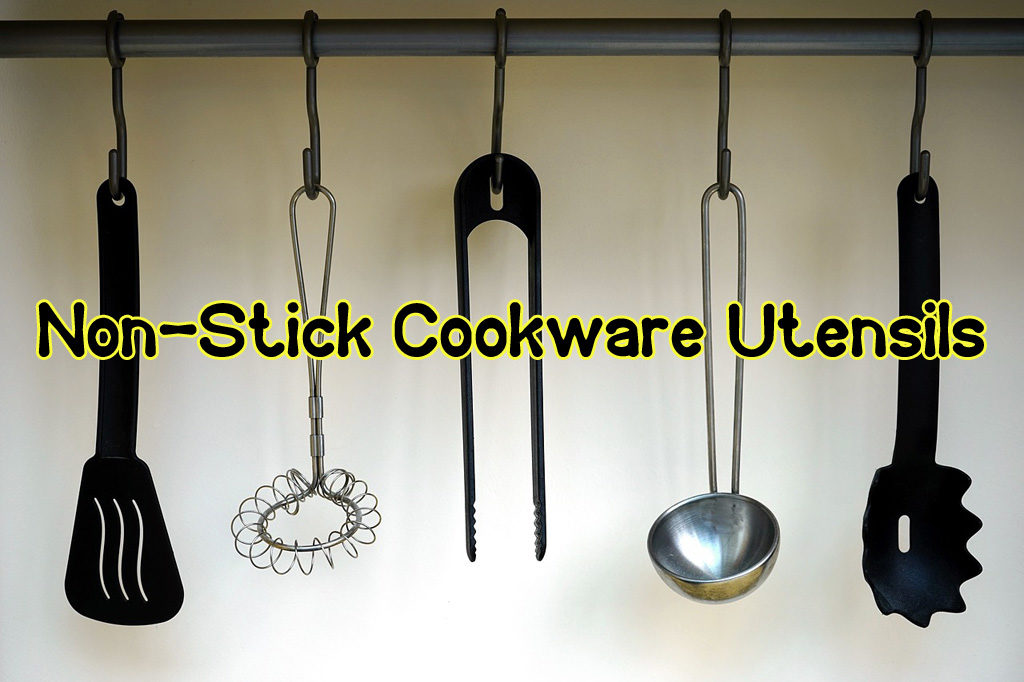 Best Utensils for Non-Stick Pans
There are different types of non-stick cookware utensils available. You need to determine which one would be perfect for you. Before purchase learn about advantage and disadvantage of each utensil.
Bamboo utensils
Pros
Environment factor: Environment friendliness of the bamboo utensils is the main reason to become famous. Bamboo is a grass. It can be cut down instead of killing the central plant because grass does not die while moving it. Even, it grows continuously. That makes it renewable and eco-friendly. Bamboo grows very faster than other woods. Due to lightweight, bamboo utensils are best for travel, camping, and picnic.
Durability: They are highly durable. Although bamboo utensils are extremely strong, they are flexible and light in weight. Also, they have high durability than plastic and wooden utensils. As being thick, they don't crack from wetness.
Odor and stain resistance: Bamboo is water, heat, stain, and odor resistance. It does not stain. Also, as being odor resistance, it does not absorb any bad odor. You can quickly clean bamboo utensils.
Stylish and smooth finish: Bamboo utensils come with a smooth finish. After a few months use its surface becomes smooth like wooden utensils. Also, it brings a natural and fresh touch to the kitchen. A bamboo utensil is a right piece to serve salad. Also, it can be a perfect gift for housewarming, wedding, and showers.
Easy to use and safe: They are lightweight. So, simple and comfortable to use. Also, don't need effort for tossing or mixing. Even, bamboo utensils don't scratch on non-stick coating.
Anti-microbial characteristics: Bamboo has anti-microbial properties naturally. So, there is no possibility of collecting bacteria. You can use bamboo utensils without worry about germs and bacteria.
Cons
Dishwasher safe: Bamboo utensils are not safe in the dishwasher. You have to clean them by hand and use soapy water to wash. But, don't soak them in water because it decreases the quality of bamboo utensils. If you want to maintain their shape, sometimes coat vegetable oil to them.
Wooden utensils
Pros
Natural: Due to make of wood, the wooden utensil is natural. Also, they don't release any chemicals while cooking using them. So, they are safe to use.
Comfortable to hold: They are easy to grasp. Wooden utensils are sturdy so no risk of break down. You will feel comfortable during the cooking as they don't pass heat.
Excellent for mixing: Many people use wooden utensils for mixing, stirring, or boiling caramels. It makes these jobs more comfortable than a regular spoon. Also, it makes the food tastier that you are cooking.
Stylish: Wooden utensils have nice looking. They fit well with your kitchen decoration. Also, add natural and fresh feeling to your kitchen.
Cons
Hygiene problem: It absorbs food particle while cooking. That helps to grow bacteria.
Maintenance: Wooden utensils are not dishwasher friendly. Also, they require conditioning. Otherwise, they will chips and cracks. You need to apply food grade oil or vegetable oil to the utensils.
Not odor resistance: They pick stain and absorb food odor. You need to use water, baking soda and cleaning paste to remove bad smell.
Silicone utensils
Pros
Durable: Silicone utensils have high durability. Because of sturdy, they don't chip or wrap as some utensils do. Also, they look like new always.
Heat resistance: They are high heat resistance. Many of them withstand more than 450-degree heat. They would be perfect for stir-frying.
Easy to maintain: You can wash silicon utensils using both hand and dishwasher. They are not only waterproof but also stain resistant. Also, they can be the sock in water for a long time without any problem.
Cons
Uncomfortable handle: They are floppy. Although, silicone utensils are would not break, but they are not comfortable enough to mix food.
Nylon utensils
Pros
Strong: Nylon utensils are stiff and rigid. So, you can stir anything you are baking or cooking.
Easy to maintain: They are safe to wash in the dishwasher. So you can clean them using dishwasher efficiently.
Cons
Low heat resistance: The heat resistance of nylon is up to 400F. If you leave nylon utensils in the pan, they will melt.
Utensils for Non-Stick Cookware buying factors
You will need to look for some criteria when buy utensils for non-stick cookware.
Scratch friendliness: You need to choose utensils that are scratch friendly so that you can avoid the damage of coating of your non-stick frying pan. Besides, look for a smooth finish.
Safety: Look for the utensils that are not reactive. Also, they should be made of safe materials. It would be better if you choose FDA approved product which doesn't react with hot or acidic foods.
Maintenance: The utensils should be easy to maintain. If it is dishwasher friendly, you have no cleaning hazard. You should look for bacteria resistance materials instead of nice looking.
Hanging hole: You will see that some utensils come with hanging hole at the end of utensils which let you easy storing facility. So, don't need to store it in the drawer. You can store it by hanging on the kitchen wall.
Closing Words
Cooking utensils for non-stick cookware are the very important cooking tool. It makes your cooking easy. Also, you will be able to make significant food using utensils as well as ensuring the safety of your non-stick cookware. Just only you need to choose right utensils to get its advantage.