Bollywood suspense thriller is a genre of that time when the film industry isn't creating proper Bollywood movies, it's creating ones of suspense that are bound to keep you on the edge of your seat. With its mystics, mystery, and men, Bollywood brings to you some of the best movies.
Here is our pick of the ten good suspense movies of Bollywood. Do give these movies a watch and be sure to stay gripped to your seat right till the very end.
---
Best Top 10 Good Bollywood Hindi Suspense Thriller Movies
---
1. Drishyam – 2015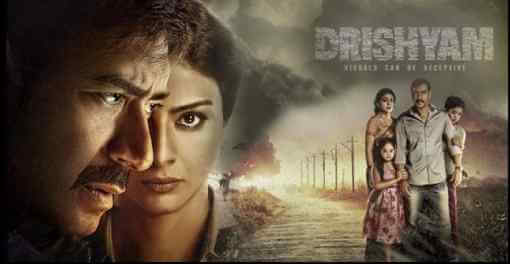 Drishyam is a remake of the Malayalam film of the same name. This is by far one of the best suspense movies to this day. It was directed by Nishikant Kamat, produced by the trio that comprises of Ajit Andhare, Kumar Mangat Pathak, and Abhishek Pathak.
The movie saw its release on 31 July 2015 and starred the likes of Shriya Saran, Ajay Devgn and Rajat Kapoor in lead roles. This is definitely a unique story that keeps you gripped to the edge of your seat right till the very end.
The drama, music and beating around the bush that Bollywood is so akin to, is nowhere to be seen in this film, making it a suspense in its true sense. A must watch suspense movie for all.
2. Detective Byomkesh Bakshy – 2015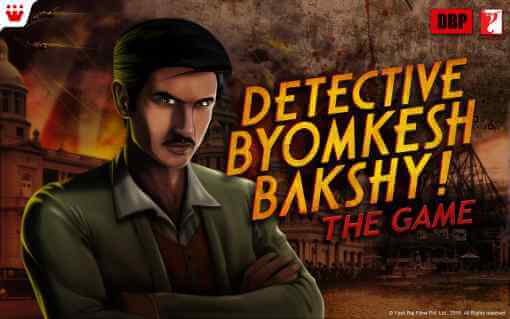 Produced by Aditya Chopra and Banerjee and directed by Dibakar Banerjee is this suspense thriller movie. The movie starred Sushant Singh Rajput, Swastika Mukherjee, and Anand Tiwari in lead roles. The movie released on April 3rd, 2015.
The movie encircles the life of the fictional detective Byomkesh Bakshi. It's filmed like these that deserve a sequel as it's pulled off perfectly well.
3. Kahaani – 2012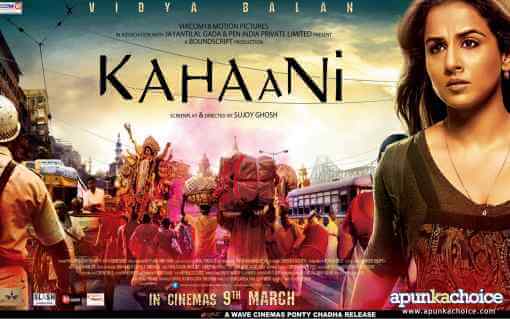 Kahaani isn't just a mystery movie, but it's one of suspense, that keeps you hooked right till the end. This movie was directed by Sujoy Ghosh and produced by Kusha Kantilal Gada. It starred Vidya Balan, Indraneil Sengupta, Nawazuddin Siddiqui and Parambrata Chatterjee.
Kahaani has been shot in Kolkata and captures the brilliance of the city far too well. The protagonist delivers a power-packed performance that leaves an indelible mark on her career. This movie is one of the best Indian thrillers to this day. One story full of suspense and thrills.
4. Talaash – 2012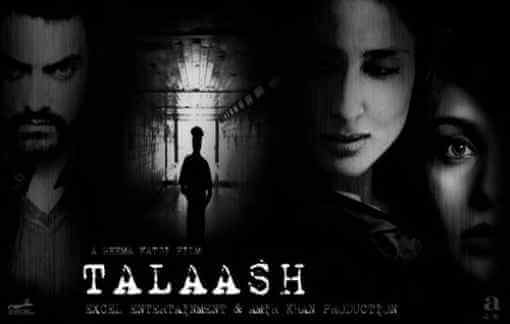 A psychological suspense thriller cum suspense movie that was produced by the trio comprising of Aamir Khan, Farhan Akhtar and Ritesh Sidhwani. It was directed by Reema Kagti and saw its release in 2012.
With stars such as Kareena Kapoor, Aamir Khan, Rani Mukherji, Rajkumar Rao and Nawazuddin Siddiqui in key roles, it comes to us as no surprise that this movie is a super hit. The film keeps you guessing until the very end, leaving you spellbound and mesmerized. A lot of the scenes make you jump right out of your seats because of the chills it sends down your spine.
5. 36 China Town – 2006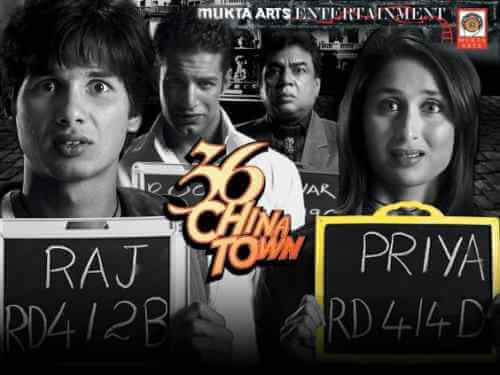 This movie is filled with suspense and was a directorial venture by Abbas Mustan. It was produced by Subhash Ghai and released in 2006. With the likes of Kareena Kapoor, Shahid Kapoor, Upen Patel, Johny Lever, Akshaye Khanna and Isha Koppikar, the movie encircles the murder mystery of a casino owner Sonia Chang.
Along with the help of a police officer's investigation, the star-studded cast unveil the mystery. With comedy, romance, drama, crime, and suspense the movie touches upon all genres. Really a good Hindi suspense thriller movie to watch.
6. Special 26 – 2013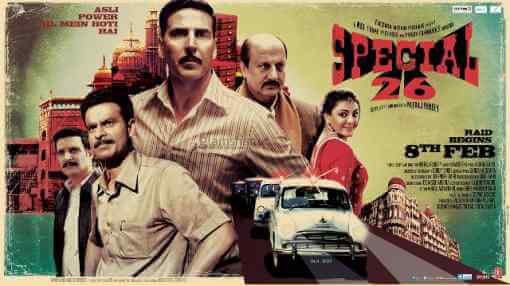 A Bollywood thriller heist movie, which was directed by Neeraj Pandey is Special 26. It was produced by Kumar Mangat and Shital Bhatia. The film's cast comprised of Kajal Aggarwal, Akshay Kumar, Divya Dutta, Anupam Kher, Jimmy Shergill and Manoj Bajpayee.
It was definitely one of the most awaited movies of 2013. The comedy is in check and the twist at the end is what you should really watch out for.   The movie keeps you guessing right through, which is the goal of every suspense movie after all. The movie is based on the 1987 Opera House heist.
7. A Wednesday – 2008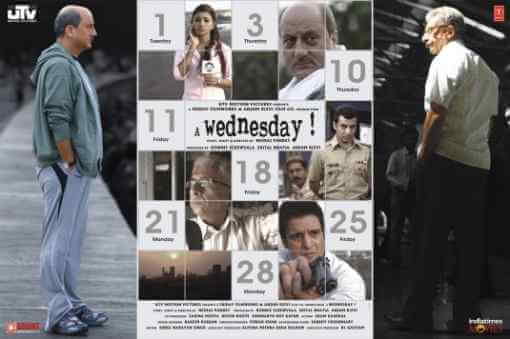 This is essentially a remake of the English movie A Common Man which starred Ben Cross and Ben Kingsley. This movie served as inspiration for the Telugu movie Eenadu and the Tamil movie Unnaipol Oruvan.
Released in 2008, the movie starred Anupam Kher, Aamir Bashir, Deepal Shaw, Naseeruddin Shah and Jimmy Shergill in lead roles. The suspense movie was directed and written by Neeraj Pandey. It was produced by Shital Bhatia, Anjum Rizvi, and Ronnie Screwvala.
8. Bhool Bhulaiyaa – 2007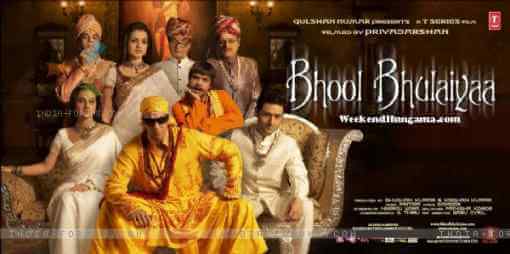 Bhool Bhulaiyaa is a horror cum suspense thriller movie, which keeps you on the edge of your seat right through. The movie was directed by Priyadarshan and was produced by Bhushan Kumar with Kishan Kumar.
The movie was released in 2007 and starred Ameesha Patel, Shiney Ahuja, Paresh Rawal, Akshay Kumar, Vidya Balan and Ameesha Patel. It was the official remake of the 1993 Malayalam movie Manichitrathazhu which starred Mohanlal.
9. Table No. 21 – 2013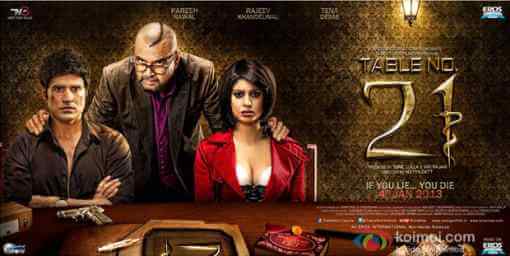 This suspense thriller film was directed by Aditya Datt, produced by Viki Rajani and Sunil Lulla. The movie gets its title from the Article 21 of the Indian Constitution.
This article enunciates the Protection of Life and personal liberty. The movie starred Tena Desae, Paresh Rawal and Rajeev Khandelwal in lead roles. The idea of a tooth for a tooth, an eye for an eye is beautifully executed.
10. Murder 3 – 2013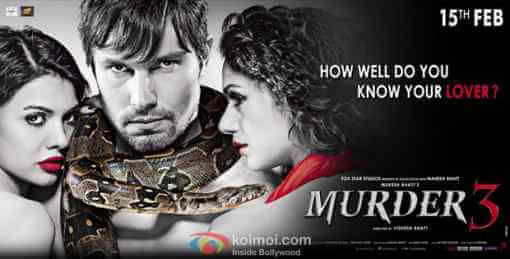 Murder 3 is a suspense thriller film that was directed by Vishesh Bhatt. It was produced by Mukesh Bhatt and Mahesh Bhatt. The movie starred Randeep Hooda, Aditi Rao Hydari and Sara Loren in pivotal roles.
The movie is a sequel to the 2011 Murder 2. These sequels are actually remakes of the Colombian thriller The Hidden Face which released in 2011. The movie has the right portions of drama and suspense to it, so it is a must watch. The soundtrack is also quite promising, so do give this movie a shot.
Conclusion:
Any suspense Bollywood buff should watch all these films at least once. They are bound to keep you enticed right to the very end. With promises of a thrilling, captivating experience, what's to miss out on?
Because it's a classic Bollywood suspense thriller movie genre, and we have tried our best to present the gems of Bollywood suspense thriller movies but if you feel that we have missed something? Please tell us.
Please share your thoughts with us as comments, and if you find this list interesting and useful please don't forget to share it with your circles! This encourages us to provide more useful and entertaining Top 10s.